36:49.240N 28:18.546 Marmaris Yacht Marine

Lisanne
Eric Alfredson
Fri 23 Oct 2015 15:40
Marmaris Yacht Marine October 23rd 2015.
The blog activity has been slow this autumn. The skipper has been lazy and no active bloggers have been on board. This is however a brief summary of the trip between Malta and Marmaris during September-October 2015.
We left Valletta in the beginning of September and spent a few days cruising the islands Malta and Gozo. Among others the famous "Blue Lagoon" which in our opinion was very overrated. Beautiful, but the bay was full of tourists in daytime and with loud party boats at night.
We crossed over to Sicily and spent a few days in the beautiful old city of Syracuse where unfortunately Ann had to go to hospital with a dislocated arm. After crew change in Catania
we visited Taormina which also is very nice, situated on a hill, but also very touristic with boutiques and expensive restaurants.
We made a short stopover in Rocella Ionica in southern Italy before we set sail for Greece. A very calm crossing with very little wind took us the 200 NM over to Kefalonia where we got into the beautiful bay of Fiskardo. Nice and warm with clear waters and many good Tavernas. We spend a few lazy days amongst the Ionian islands before we entered into the bay of Korinth.
We had a dramatic night when a thunderstorm suddenly hit us with 50-60 knots winds and Lisanne almost dragged onto the concrete pier. It was a close call. After maneuvering out of the
anchorage we didn´t feel like going back in so we continued through the night until the weather stabilized and we found a safe anchorage at 6 in the morning.
The Korinth Canal was an interesting but very expensive experience. 370 Euros for a couple of hours crossing. But quite spectacular with its deep cut through the rocks and bridges that were lowered down into the water.
We left the boat in Zea Marina in Pireus for a week in the end of September as Ann had to go home to get her arm looked after. After return with a new crew the trip continued through the Aegean Sea. We left Pireus on October 4th and  visited Kea, Syros, Mykonos, Paros, Amorgos, Levitha, Kalymnos, Kos and Simi during the two weeks before we arrived in Marmaris on October 18th.
After a couple of days with preparations Lisanne was hauled out of the water on October 22nd and will rest on dry land until April 26th when she will be launched again for the extensive sailing season 2016. The skipper will in the meantime make a trip across the Atlantic in the ARC on board the Oyster 625, Delicia.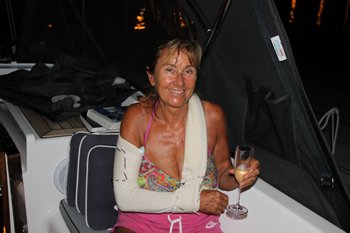 ---