Horta

Lisanne
Eric Alfredson
Fri 23 May 2014 17:55
Horta fredagen den 23 Maj.
Horta hamn är nu intagen. Bomber och granater, pirater och Peters bar. Egentligen heter baren bara Cafe Sport men här går den under namnet Peters bar. Här och i resten av seglarvärlden. Innan vi börjar berätta om eskapaderna på baren skall vi naturligtvis redogöra för vad som försiggått mellan nu och det förra blogginlägget.
När vi lämnade er sist hade vi 350 distans kvar. En liten lätt sträcka för oss som gick utan incidenter att tala om. Supervindar och en fantastisk båt som slutat läcka lika mycket gjorde att humöret gick upp mer och mer. Blir alltid så i slutet av resor verkar det som. Det uppsluppna humöret smittade av sig på djurlivet och den första valen behagade visa sig strax därdå. En kaskelott. Stor och svart vinkade den åt oss med sin stjärtfena. Applåder och visslingar. Den blev blyg och försvann men innan vi han bli besvikna över detta rasslade det till i fiskelinan. Inget litet rassel utan ett med besked. Vad händer? Bottennapp? Det är över tusen meter ner till botten så sannolikheten är liten. Vi tar över spöt och börjar kämpa. Det är tungt. Har vi fått val? Efter en lång kamp där vi är oroliga för att linan skall brista vid flera tillfällen börjar vi se något från djupet. En stor blåfenad tonfisk. Lätt dubbelt så stor som den förra. 20 kilo eller mer och över en meter lång. Fantastiskt. Vilken kamp. Pim står och halar in fisken mot Rickard som står med fiskekroken redo. Snapp, den sitter på kroken och halas upp på båten. Det behövs två man för att få upp den. Gin får den över gälarna som ett tack från oss. Hela flaskan går åt. Krävs en del för att däcka en bjässe. Efter att vi fått upp den skär vi fem stora kottleter och resten filéas. Fyra stora filéer läggs i frysen till allas förtjusning. Nja inte allas riktigt. Man kan bara äta så mycket färsk tonfisk säger Jabbas som till middag lagar pizza.
På morgonen efter möts vi av två fenvalar som följer oss ett stycke. Majestätiska djur i sitt rätta element. Snart ser vi en skugga i fjärran. Är det en synvilla eller är det land? Efter ytterligare några sjömil är skuggan kvar. Land tillslut. Fantastiskt att se och när vi kommer närmare ser vi mer land. Hus. Civilisation. Vi tar ner seglen vid 17 tiden och lägger slutligen till i Horta vid 20 tiden. Ett dygn före planerad tid. Men så har vi haft bra väder och gynnsamma förutsättningar.
Klarerar in och får fast mark under fötterna. Konstig känsla. Marken gungar. Tillslut är det dags. Med hög förväntan går vi upp till Peters bar. Den uppfyller alla förväntningar. Fantastiska människor och fantastisk stämning. Det är inte bara vi som har kommit fram. Många är med oss och många har längtat hit. Leenden sprids snabbt och plötsligt sitter vi med ett gäng holländare som kommit med en skuta som heter Europa. En sak leder till en annan och kvällen blir blöt som få. Avslutas med sängfösare i båten vid 3.
Efter att vi vaknat efter kalaset börjar stora båtstädningen. Fall sköljs, vindmätare ställs om och kontrolleras, ny lift till spinnackerbom träs genom masten och båten städas minutiöst. Den riktigt glänser där vi ligger. Vi får även ny kajplats och lägger oss i en fin skyddad marina. En öl är vi värda. Då det är Jabbas sista kväll äter vi på flott restaurant där maten värms på lavastenar. Vin, en öl och så är vi på väg till Peters igen. Nu har ett nytt gäng med irländare kommit in och vi firar deras ankomst med buller och bång. Få gånger har det skrattats så mycket. Irländarna verkar ha pirat-tema och deras arrrgggghh hörs till långt in på morgonen.
Lite slitna vaknar vi upp och hyr cycklar. Jabbas lämnar med samma plan som Jonas ankommer med. Fortfarande fem i besättningen altså. En skön lirare kör upp oss på Faials högsta topp som är klädd i moln och ber oss titta på utsikten. Då det är helt molnigt ser vi ingenting. Sedan kommer cyklarna och han lämnar oss åt vårt öde att hitta ner själva. Efter två timmar nerför på slingriga serpentinvägar är vi tillbaka i Horta med skavsår i baken och hur nyktra som helst. Redo för nya äventyr! I morgon lördag går färden vidare mot Sao Miguel, huvudön på Azorerna.
Pim´s birthday cake                                                                          Half way champagne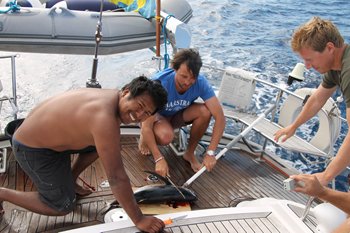 Rinsing a small tuna                                                                         Fin whale escort
Faial with Pico in the background                                                 Volcano bike riders
Down in Horta again.
---