00:49.15 S 90:25.44 W Galapagos

Lisanne
Eric Alfredson
Sat 8 Apr 2017 22:28
Puerto Ayora, Galapagos Saturday April 8th.
Galapagos is a truly amazing place ! Stands out in the world with its stunning beauty and unique wildlife. Don´t miss it !
Our first stop was the island of San Cristobal. After one day of getting cleared in and organized we went scuba diving the second day. We went to Kickers Rock, a steep horizontal cliff wall between two islands. Wow what a dive ! Eric got so distracted by watching all the sea lion, turtles, hammerhead- and whale sharks, lobsters, rays and large schools of fish so he went out of air completely and had to borrow air from the dive leader to get up to the surface safely.
Next day we made a hike to the volcano caldera and then we visited a breeding farm for the giant tortoises. In the afternoon we went to the beach for snorkeling with the sea lions. There were plenty of giant iguanas all over the beach. Strange creatures !
There were lots of Oyster friends here so the evening ended in a nice restaurant in town.
We sailed on to the largest island Isobel, where we have also spent three days. On our first day we went on a snorkeling trip to " Los Tuneles", lava tunnels where we could swim through the tunnels under water and watch sharks, lobsters, sea horses, turtles and rays. And many blue footed Boobies, the famous Galapagos bird. They are breeding now and we could watch the male dancing for the female.
On our second day we rented mountain bikes and cycled to an old prison camp where the prisoners built "the wall of tears" under grueling conditions.
Yesterday we went on a 16 km hike up to the large volcano on 900 m over sea level. Quite challenging. The caldera is the second largest in the world and the lava fields were really amazing. On the way out to the boat we watched the Galapagos penguins who were nesting 300 m from our boat.
We are now on our way to Santa Cruz, our third destination, about 42 Nm away . Dream sailing in 6 knots with gennaker. Good to get some wind. We are in the doldrums with very little wind which of course makes it very hot with air and sea temperatures around 30 C.
The Lisanne crew wishes all our friends, wherever you are, a Happy Easter !
PS: You can follow our progress towards the Marquesas Islands on: oysterworldrally.com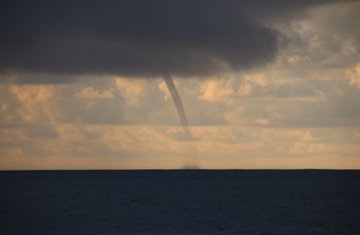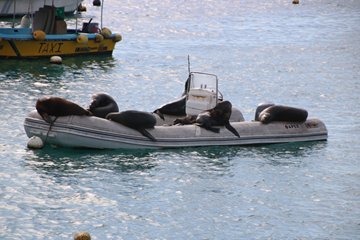 ---