18:64.77S 173:98.37W Neiafu, Vavau, Tonga

Lisanne
Eric Alfredson
Mon 28 Aug 2017 00:22
Neiafu, Tonga Monday August 28th, 2017
Hi Lisanne friends,
We have now spent three weeks in the beautiful and friendly Kingdom of Tonga. After arriving Lifuka Island we got terrible weather with rain and strong winds. We were safely anchored with good shelter and spent a whole day down in the saloon watching movies ! But fortunately the weather cleared up again and we sailed north to a small island called Kenutu in the Vavau group of islands. There we met the other Oysters for a beach barbecue. A great event. Lots of good friends. Roasted pigs, fish, chicken on the grill, fruit and a nice bar. We were dancing barefoot on the beach until late at night. Lots of fun !
After a couple of days at Kenutu Island we sailed towards Neiafu. On the way we passed through a very shallow passage with only 1 m under the keel. And suddenly we spotted a couple of whales. Mike and Eric jumped in the water and swam up to them. It was a mother and newborn calf. We went as close as ten meters and saw the calf playing around his mother. Breathtaking !
We got a good mooring bouy in Neiafu and have now spent a week here. We went on a whale swim one day and swam with a couple of whales for a long period. Ann was a bit concerned they would come up just under her but they just avoided her and came shooting up in an amazing breach. Awesome !
On Friday it was party time again ! 70-ies party organized by James and Tiggy on "Miss Tiggy". We were all dressed up in 70-ies gear. The creativity was enormous. There were punk rockers, hippies, rastafarians and a lot of other creations. A truly great night that could easily have got out of hands when the guys started undressing on the dance floor.
Yesterday we went together with the "Meteorites" to Mariners Cave a cave with the entrance 2 m under the surface. Some of us went down with scuba gear but some of the braver made a free dive into the cave.
We have now cleared out of Tonga and in a few hours we will start our 300 Nm crossing over to Fiji where Vanua Balavu will be our first stop.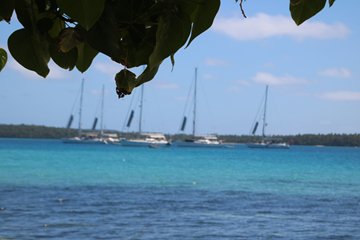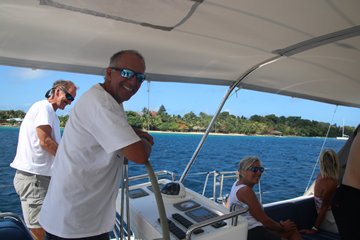 ---