52:02.06N 01:09.00E Oyster Yard Ipswich

Lisanne
Eric Alfredson
Sat 23 May 2015 22:35
Lerum, Sweden 24th of June 2015
Almost year has passed since we returned from our fantastic Caribbean trip. The blog has been quiet as "Old Lisanne" has mainly been lying in Palma, Mallorca with a "for Sale " sign whilst the owners have been busy with the building of "New Lisanne" an Oyster 575. We have had many nice boats throughout the years but we have always dreamt of being able to buy a new boat and take part in the planning and building process to get the boat just as we want it. And now this dream has come true. New Lisanne is our dream boat, just as we want it.
Old Lisanne, the Oyster 53,has found new owners and we hope they will enjoy this fantastic boat just as much as we have done.
Next week we will go to the Oyster Yard in Ipswich to take over "New Lisanne". It will be a busy week with lots of stuff to go through before we can set sail for the first time. Hopefully we'll remember most of it !
Our ARC-crew Jonas, Dan and Carl plus Per-Erik a new acquaintance will arrive on Friday 29th just in time for the Launch Party where the Champagne bottle will be smashed on the bow.
Then we set course south through the English Channel and over Biscay towards Gibraltar.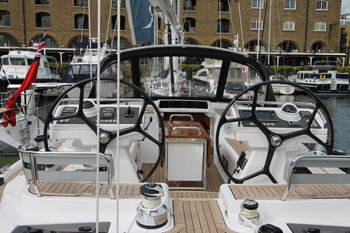 ---