12:00.00N 61:45.70W Prickly Bay Grenada

Lisanne
Eric Alfredson
Mon 30 Jan 2017 22:27
Monday January 30th, 2017
The second week of our trip has been really slow and relaxed. We spent a couple of days in Admirals bay on Bequia where African got us one of the best moorings . We went to the Swedish owned Bequia Beach Hotel in Friendship bay for a lovely afternoon with a great lunch and swimming in the sea and in the nice pool. We had looked forward to the Baby Back Ribs at Papas in the evening but they were sold out !!! But the burgers were OK with a cold Carib.
We sailed out to Mustique in in a 20 knot breeze. We got the last mooring outside Basils. Only 200 EC $ for the night !! Our Oyster friends in Dalliance were lying next to us. We booked a table at Basils for the evening as there was the Mustique Blues Festival going on. There were a number of older gentlemen playing guitar and mouth harmonica, some great, others less good. All introduced by Basil himself. Mick Jagger was there as well. ( Maybe the rumor was out that we were coming). We hoped that he would go on stage but he just chatted in the bar with his old blues buddies.
After checking out all the celebrities villas next morning we sailed down to Mayreau and anchored in Saltwhistle Bay. This once picturesque and charming place is now turned into a Tivoli with lots of charter catamarans partying, and loud music from three different bars. We had dinner on board and a beer ashore and left for the Tobago Cays early next morning.
We had two lovely days in the Cays with snorkeling and diving on the reef. In the evening we went to the lobster barbeque. Great evening together with our friends on Dalliance !
Next stop Union Island to clear out from St Vincent. We had drinks on board with the crew from fellow Oyster Meteorite and went ashore for yet another barbecue. The worst band ever were playing in the restaurant ! We had to flee to the nearest bar to get away from the noise.
We are now in Prickly Bay on Grenada. A nice and calm anchorage outside the marina restaurant. We will stay here a couple of days to change crew and prepare for the crossing over to Bonaire and the ABC-islands.
Bequia Beach Hotel Admirals Bay
Basils Bar Mustique Focus on the important stuff
Micks house Bryan Adams house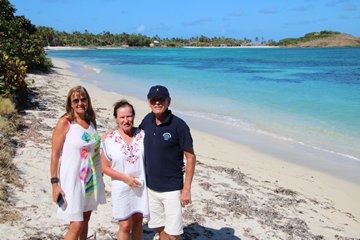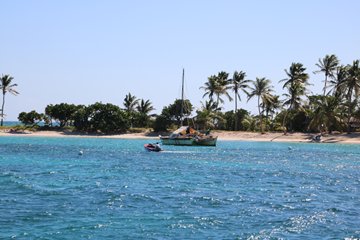 Saltwhistle bay Testing the gear
Chest up, tummy in Sundowner (again) with Dalliance crew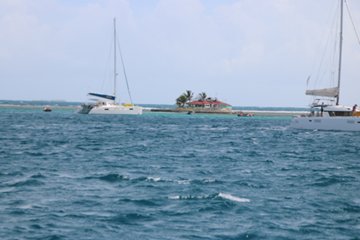 Lobster barbeque Union Island bar
Looking forward to new adventures
---