14:04.50N 60:57.10W The Party is over, but what a party !

Lisanne
Eric Alfredson
Mon 23 Dec 2013 11:17
Rodney Bay St Lucia 23 December 2013.
Lugnet har sänkt sig over Rodney Bay Marina. Festen är över för denna gången. Många besättningar är på väg hem och många båtar går ut till öarna runt omkring för att fira jul o nyår.
Vi seglade tillbaks från Bequia för att vara med på prisutdelningen. Vi gick först till Wallillabou på St Vincent där Pirates- filmerna spelades in men nu fanns det inte mycket kvar av kulisserna. Vi fick en härlig dusch i vattenfallet mitt i regnskogen där.
I Rodney Bay hade många fler båtar kommit in bl. a. Lasse o Mona Gisaeus med Alf och Peter på Esmeralda. Anna och Sebbe åkte hem redan den 19e och vi andra ägnade oss åt ytterligare båtmeck. Nick Forsberg som bor och jobbar här hjälpte oss att montera en ny VHF-antenn i masttoppen. Oj, nu såg vi plötsligt AIS- båtar långt uppe på Martinique och radion hördes "loud and clear". Nytt genuaskot ersatte det som small av en natt. Båten blev tvättad både in-och utvändigt och polerad av två boat-service killar så nu skiner Lisanne igen.
På lördagen drog det ihop sig till prisutdelning. Strax innan kom Ann, Lisa och Fredrik, trötta och vinterbleka efter regnblasket hemma. Massor av folk på prisutdelningen. Drinkar och tilltugg. Det blev en ganska långrandig historia. Först utdelning av priser för snyggaste båt, bästa blogg, flest barn ombord, långsammaste båt etc etc. Efter ett tag blev det dags för seglingspriserna. Hela Lisannes besättning (tyvärr utan Anna o Sebbe ) upp på scen. Vi tog hem den fina Oyster Trophy vi hade kollat in redan i Las Palmas för snabbaste Oyster. Fint vandringspris och silvermugg för klassegern men konstigt nog ingen buckla för 2nd overall. Bara finnpajsarn som så snöpligt snöt segern framför näsan på oss fick pris. Svenska Miss Malin vann ochså sin klass och fick pris.
Sen drog partyt igång. Oysterbucklan fylldes åtskilliga gånger med Rumpunch och bästa rommen och gick runt bland seglarna. Så fick den en vettig användning. Dansen gick långt fram på natten. Lisannes besättning utmärkte sig som vanligt inte direkt för återhållsamhet.
Söndag morgon. Nu är det över. Natten blev lite för kort. Eftertänksamhet och begrundan. Full English Breakfast. Nyanlända besättningen iväg till stranden för bad o lite sol på den bleka kroppen. Avgående besättning packade ihop sina grejer. Sen iväg till flyget. Jonas på stand-by biljett, skulle han klämma sig på planet? Ja, han kom med, skönt! Tack Jonas, Kalle, Anna och Sebbe för att ni varit en sån kanonbesättning och seglat Lisanne så proffsigt. Vem hade vågat tro att vi skulle lyckas så bra ?
Nu seglar familjen vidare. Vi firar jul i den vackra Marigot Bay några timmars segling söderut och seglar sedan ner till Grenadinerna.
Vi önskar alla vänner och blogg-läsare en riktigt God Jul och ett Gott Nytt 2014.
Finally arrived! Gingerbread cookies.
Lucia team The Deckhouse with Anna and Sebbe
Bequia Beach Waterfall shower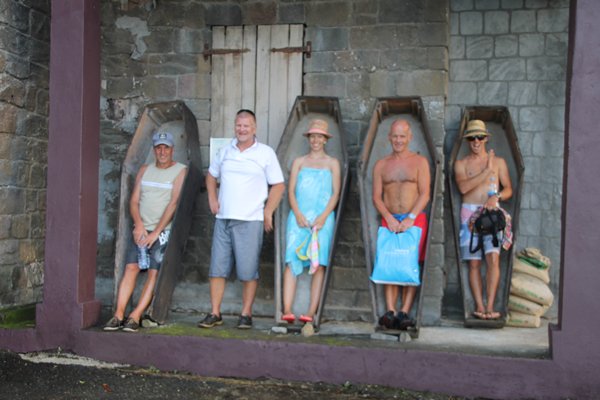 Not stiff yet Lisanne crew on stage
Proud winners. Merry Christmas
---