37:58.03N 00:41.2W Torrevieja

Lisanne
Eric Alfredson
Fri 19 Jun 2015 17:27
Midsummer eve June 19th
We continued from Almerimar along the eastern coast of Spain and stopped in a place called Garrucha. A deserted marina with no service and no charges probably in bankruptcy. We came in late and left early and continued to the beautiful town Cartagena. We got a very nice welcome in the well-run marina just in the middle of town. Cartagena is a historic place with roots from the phoenican and roman times. Lots of archaelologic sites, among others a roman theater.
Now the weather changed completely and it started to get nice and warm. The water temperature went up from 17 degrees on the Costa del Sol to 24 degrees here on Costa Blanca
We had a nice reach to Torrevieja where we are now, celebrating Midsummer. Not a traditional Swedish one though. Cava by the pool instead of herring and schnapps.  Our friend Peter Björkqvist who lives here joined  as well.
Dodge from the 30ies                                                                      Downwind in the sun                                                                                                  
Relaxed sailing                                                                                  Wine and cheese
Tomas B                                                                                             First dip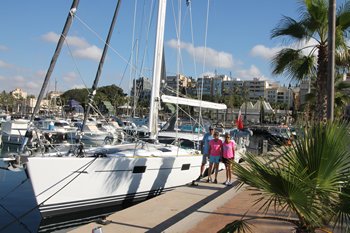 Cartagena marina                                                                            Colourful  acquaintance
Roman theatre in Cartagena                                                         Midsummer lunch
Bimini time
---