20:20.83S 148:57.05E Hamilton Island

Lisanne
Eric Alfredson
Thu 7 Jun 2018 12:17
Hamilton Island June 7th, 2018
We are now in Hamilton Island Marina, part of the luxury resort on Hamilton Island in the Whitsundays. We have spent a week cruising the famous Whitsunday archipelago. The islands are really beautiful with good sheltered anchorages and great sailing going north in the SE trade wind. We have hiked up to the top of some of the islands with stunning views. We have snorkelled a on the coral reefs but down here they are damaged by the cyclone Debbie that passed here some years ago. We expect better snorkelling and diving when we get up to Cairns. On one of the islands we saw some Koala bears. They are so cute.
Yesterday we celebrated one of the Oyster owners 70th birthday and today we have had a great day filled with  activities. Go-kart racing and beach volleyball. The Hobie-cat race was unfortunately cancelled due to strong winds.
Tomorrow Friday we sail north towards Cairns.
    Cute Koala                                                                                            View from Lindeman Island
     Oyster beach barbecue                                                                      Sundowners on Lisanne
     Whitehaven beach                                                                           Why sailboat ? Buy a seaplane.
       Wiew from the top of Whitsunday Island.                                     Lisanne is down there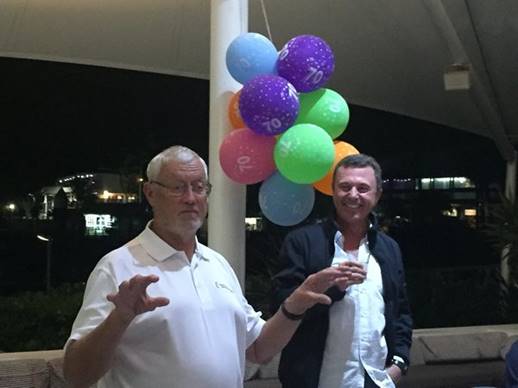 Nigel 70. ( Owner of old Lisanne).                                                 Go-cart race starts.
          Some serious competition                                                             Oyster beach volleyball tournament.
---