Funchal, Madeira

S/V Goldcrest
David & Lindsay Inwood
Mon 10 Sep 2018 13:40
32:38.752N 16:54.420W Mon 10th Sept 2018.
We had a reasonable sail most of the way from the anchorage to Funchal, Madeira's capital, until the wind was hidden by the towering bulk of the island.  The scenery here is particularly dramatic with very steep valley sides rising to high mountains all covered in a positively jungly  green.  Funchal is also a bit of a culture shock, a really big city sprawling up the slopes (to about the 2,000 foot contour) and down to a quite modest harbour.  There are two marinas here, the established one being run by a couple of sailing clubs just for local boats and a new-ish construction, built with EU money as a "port of refuge" but mostly given over to tripper boats.  They allow 8 visiting yachts currently, but commercial pressure is set to halve that in the near future, which is a real pity as being in the town centre is great.  However we must be out of practice in tourist resorts as we got totally suckered in the local market, paying over €30 for some passion fruit which were nothing like as good as the samples he had fed us!   Passion fruit are everywhere here and Lindsay has been enjoying the local passion fruit flavoured poncha (punch).
The famous city market:
And our view of the city and cathedral tower from the boat:
Looking back towards the sea from the Botanical Gardens, 2,000ft up:
However, the main reason we are here is to walk the famous "levadas", channels often hewn into sheer mountain-sides that deliver water from the very wet northern uplands down to the productive slopes elsewhere.  Some are very old and built with big loss of life – mostly slaves and convicts it seems.  We did a couple of the most famous, covering about 15 miles over 2 days.
This narrow channel snakes around vertiginous cliffs with the narrowest of paths and hundreds of metres of cliffs above and below:
But the destinations are superb!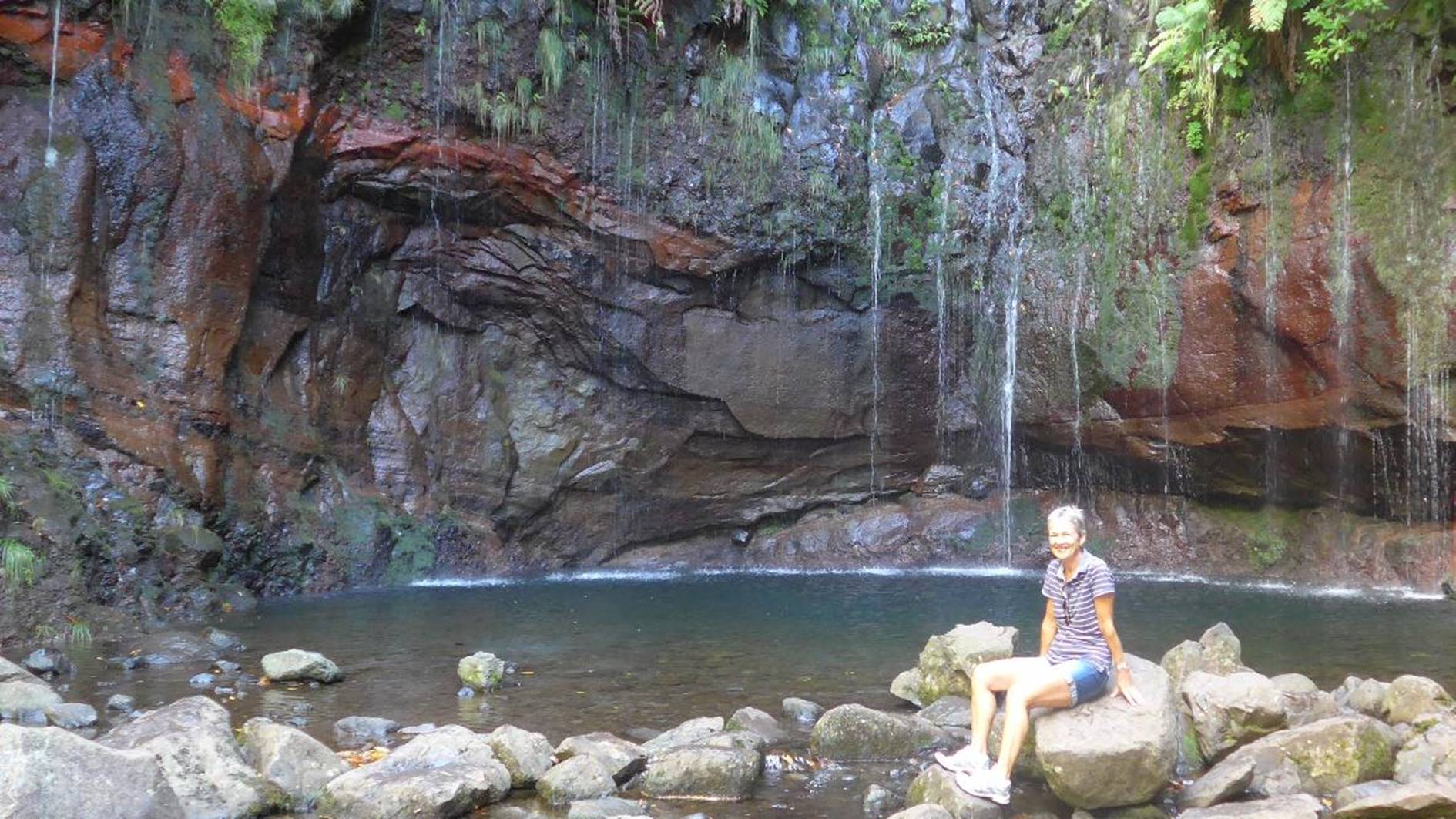 We have spent over a week here, longer than planned whilst we wait for enough wind to get us to the Canaries – off tomorrow for 2 nights at sea!  Madeira really is a gem, or "pearl of the Atlantic" as it is sometimes called.
---