Cascais

S/V Goldcrest
David & Lindsay Inwood
Thu 27 Sep 2012 16:10
We ended up staying a whole week in Viano; partly waiting for a good weather window but also because skip wasn't in top form as a result of four injuries over recent weeks which are conspiring to make much physical activity a bit of a pain. After a week of lazing around the ankle is pretty much better, but back ache and pains in both hands are still proving to be a bore. Lindsay is now thinking that in marrying a younger man she didn't go far enough and is looking for a suitable teenager to try again with…
With more strong winds in the forecast we decided it was time to move on despite the big seas that were expected to be left over from the recent westerlies. In fact we had seas of up to 3m, which look pretty impressive as they approach, but despite making the boat heave about, things were nothing like as uncomfortable as we expected. First mate did have a very queasy stomach for 24 hours but managed not to feed the fishes which was a relief. We'd decided to head for Cascais, just outside Lisbon, both because we could be in port for the next strong winds but also because the pilot book makes the town sound worth a visit. This meant we were in for a 190nm trip which we did in 31 hours. We had to motor for 13 hrs when the winds were too light, but we had mostly great sailing. Those of you familiar with our relationship with Goldcrest will be pleased to hear that she impressed us again, both with her comfortable motion in the Atlantic swell and her sailing abilities. We had very light winds on our beam (side) for the first day but managed to sail nicely as we did the second day with force 3-5 following winds. The ubiquitous fishing floats were the usual challenge on this coast – we managed to pick one up and then shake it off in the middle of the night and then hit another one without getting its rope wrapped around us. We also had a couple of fishing boats stop in our path and then surge backwards and forwards unpredictably as they worked their pots – do you go right or left? – whatever you decide that is the way they will zoom in next!
We arrived in Cascais in the early evening exhilarated after 14 hours of continuous sailing in interesting conditions. Despite the high cost of this place I think we'll stay a couple of days as we rather like it here. It's a well developed and sophisticated place but based around a delightful old town. We stumbled on a cheap little restaurant for lunch and found that on Friday nights they host fado artists from 9 to midnight, so we've booked ourselves in for supper and a taste of Portuguese musical emotion!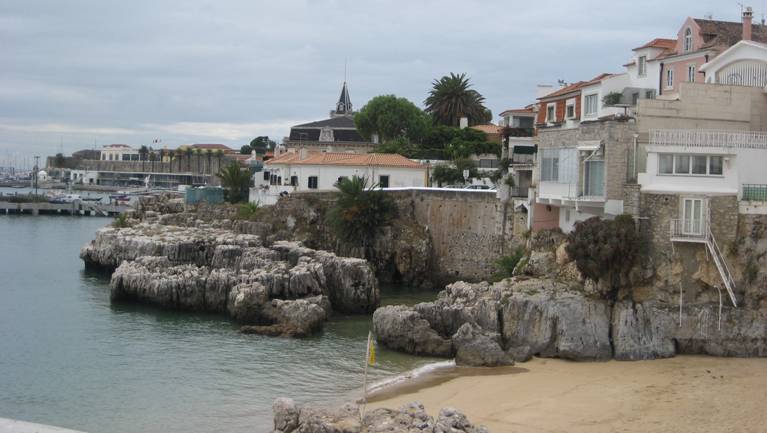 We also discovered a beautiful stately home, Portuguese style, from the late 19th century which was a gem of a house. It was stuffed with stunning furniture, paintings, china and silver and of course, decorated with gorgeous tiles, most of the treasures much older than the house itself. The ceiling of one of the rooms was painted with clover leaves because the original owner was one Jorge O'Neill!
---