Beaufort SC

S/V Goldcrest
David & Lindsay Inwood
Sat 22 Nov 2014 16:15
Well, here we are, bedded down for the winter having completed our last sail of the season from Charleston to just outside Beaufort (South Carolina).  We are guests of the local reps of the Seven Seas Sailing Association who are neighbours of the port officers of the Ocean Cruising Club, of which we are members.  They have a lovely home on the banks of Brickyard Creek, an offshoot of the Coosaw river which forms a section of the Intra-Coastal Waterway (ICW), the inland route south through the US east coast, which is in the main barred to us because of our mast height and draft.  This section has no bridges so our 70+ft mast wasn't an issue, but our 7ft draft gave us problems in again the end…
Docked in Brickyard Creek:
As has been the pattern for the last few legs down the east coast, we had to choose our travel dates carefully to fit between strong wind systems.  We needed to be here before Tuesday and with 30 knot plus winds and heavy rain forecast from Sunday, we decided to do the 65nm slog in one day.  No worries we thought; leave before dawn, chug along the coast in light winds & flat seas, enter the inland waters early enough for good visibility of the channels markers.  As has become predictable, that isn't what happened.  We had really rough seas and strong winds (10-15 knots stronger than forecast) so by the time we got to the river entrance things got tricky; the shallow bar across the entrance wasn't where the charts showed it, nor were the channel markers and we had a stressful half hour looking for buoys hidden by steep seas and watching the depth anxiously as the boat pitched about.  In the end we made it into St Helena Sound just fine and joined the ICW in flat waters and apart from seeing one other boat aground and then being chased by a tug for a while in a narrowish channel, had an easy run for 2 hours to our host's dock.  Within sight of the end, we went fast aground.  With advice coming at us from all directions, we sat feeling foolish until the tide rose a bit whilst more knowledgeable boats sailed serenely past.  At that point a local came past and, as kind as most Americans have been, he motored around for 15 mins sounding out exactly where the channel to the dock was.
Even if we've made this point before it's worth repeating how amazingly friendly and helpful we have found Americans to be.  We've been shown the best hospitality and such willingness to go out of their way to help.  Even drivers anticipate your desire to cross the road and mostly stop for you before you even know you want to!  Over drinks last night our hosts attributed this to our English accents, but this is clearly not the entire story – they are just mostly very nice folk.
So this is our last posting until January.  Have a "happy holiday season"!
Beaufort houses:
Lindsay & cousin Leigh: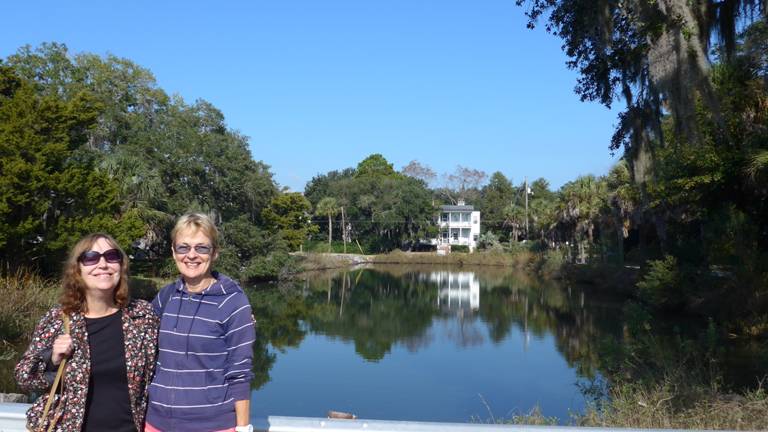 ---