Cabrera

S/V Goldcrest
David & Lindsay Inwood
Mon 29 Mar 2010 17:40
We crossed from Palma to a group of islands off the south eastern corner of Mallorca which have been a marine nature reserve for about 20 years. We had a beautiful spot on a buoy in the bay of the main island, Cabrera. It is supposed to be the second most sheltered harbour in the Balearics and is very busy in high season with day tripper boats and 50 buoys for overnight visitors who have to apply for a special permit in Palma. There were only a handful of boats in this early in the year which made it an even more heavenly spot. We sailed over there with our friends from the marina in Valencia and the four of us were then able to dinghy ashore and book the services of a guide to take us on a walk across some of the more remote parts of the island. Visitors are not allowed to wander freely everywhere, although we were able to do two shorter walks later in the day and the following morning without a guide. Our guide was a chatterbox who tested my rusty Spanish to the limit over the course of a 2½ hour walk! We saw delightful little coves, tiny old houses built into the shore of some sort of crumbly sandstone, sweetly smelling pine forests and wonderful wild flowers. The island's history goes back to pre-historic times and amongst others, the Romans went there and monks were in residence in the 5th-7th centuries. Apparently a papal representative sent to investigate them reported that they were quite mad! He then disappeared in mysterious circumstances… During the Napoleonic wars, 9000 French prisoners were sent to the island and in 5 years there over ⅔ of them died of disease and starvation. Today almost no-one is allowed to live permanently on the island and it has become a real wildlife haven. Species of baby lizards unique to the area scuttle about everywhere you look in the sunshine and on one arid coastal hillside there were dozens of delicate baby narcissi.
Red Panda in one of the island's inlets:- Apparently only the king himself is allowed to visit some of these!
David on the castle which commands the entrance to the harbour:- It was built to stop the N African pirates from using the harbour as a base to attack Mallorca.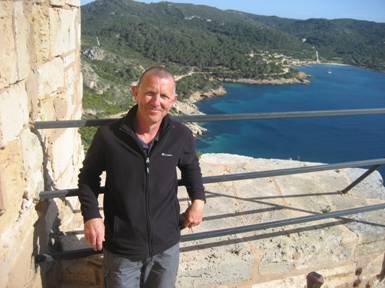 Our friends Steve and Malisa Chafer on the walk around the island:-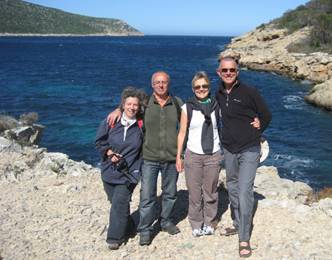 One of the little black metallic skinned lizards that are everywhere:-
---