Marseille

S/V Goldcrest
David & Lindsay Inwood
Mon 23 May 2016 19:10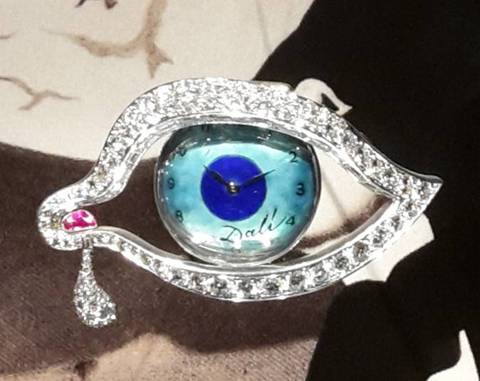 43:17.666N 5:22.168E Mon 23rd May 2016
We're back on board and travelling again after a long pause in Cap D'Agde. Fortunately we were away in Toulouse and the UK for most of that time, as it was the worst sort of French resort. We were glad of its easy access to hire cars though, as at the last minute we had to drive down to Barcelona to get my failed dental implant removed. It took us about 3 hours to drive down the coast that had taken us over 30 hours to sail up! The redeeming point of that trip though was the detour to visit Dali's museum in Figueres. The precious jewels he made have been collected there in a special vault and they are truly amazing.
This stretch of coast has some infamous winds; the Tramontane and the Mistral in particular are much feared, plus something about the shape of the terrain makes the winds very gusty and their seas big and unpredictable. We set off on Monday for a shortish hop to Stes Maries with forecast 15kts winds gusting to 25, but from just behind the beam so we were expecting a lively trip, at Goldcrest's best point of sail. We had instead a full gale, winds steady in the mid 30s gusting to 40kts, with really rough seas of up to 2.5m, and highly variable in their direction and timing. To make matters a trifle worse we were trying to head almost directly downwind for much of the time. Goldcrest just loved it, lapping up the miles at an exhilarating rate (setting a new instant speed record of 11.3kts down a wave) and looking after us just fine, so we quickly decided to make a long day of it and miss both our planned stops in the Camargue. We arrived in Marseille around 8 p.m. after 12 hours averaging 7kts, encrusted with salt and well pleased with ourselves.
Entering the old port is a little like entering Valetta (Malta); the castles, forts and churches may not be not quite so imposing but views of Chateau D'If in the approach make up for that. We found an empty yacht club welcome pontoon and tried to check in for a few days only to be told it was completely full and we had to move. Some gentle persuasion got us to stay for the night and fortunately another yacht club had room for us the next day. We are in a great location, overlooked by old forts and with views to the open sea, constantly rocked by pilot launches (servicing France's largest port) and by tripper boats with names like "Edmond Dantes" (they will take you to his real prison cell in Chateau D'If - honestly!).
Chateau d'If and selling the daily catch:
Views of the old harbour from the fort:
Rooftop gardens on the old fort: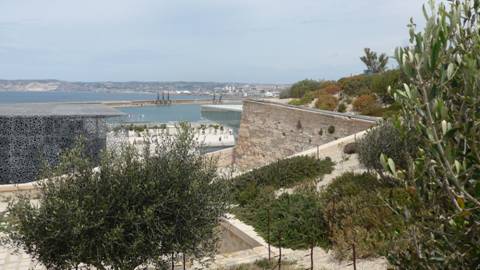 ---