More drama on Mount Desert Island

S/V Goldcrest
David & Lindsay Inwood
Tue 9 Sep 2014 17:00
On Friday we decided to move on to Mount Desert Island – storms were forecast for the weekend and we wanted to meet up with German friends we had made in the Bahamas.  We had a very scenic motor, spending the whole day dodging lobster floats and threading our way through narrow channels between the islands that litter this coast. At times the sea looked like a children's playground of brightly coloured markers and we have read since that Maine fishermen put out 3 million pots every year!  This was probably the closest we've been to the coast un-shrouded by fog, so we had some great views of the various communities, boats, fantastic properties and just pretty coastline.  Stonington was a particularly attractive little town where the main industry used to be the quarrying of the local pink granite.  Apparently Kennedy's headstone came from here.  Photos below:-
An unusual house in North Haven
Stonington:
We moored initially in Southwest Harbour and met up with Hans & Andrea who have the most beautiful new 55ft Amel: the height of luxury and unexpectedly practical (we'd looked at older models when we were changing boats and had been decidedly unimpressed until seeing this one).  They joined us for supper on Friday night and we went to theirs on Saturday when the promised storm finally hit.  All was quiet and gentle below, but it must have been quite violent because when we tried to return to Goldcrest, our tender was no longer tied on!  I'd used my usual method, but Hans keeps his cleats highly polished and somehow the line had worked loose in the winds.  He kindly whizzed us around the harbour in the dark for over an hour, but we couldn't see it anywhere.  Resuming the search in the morning we spied it safe and sound, ashore not very far away, but blown well above the high tide line.  What a relief. I really wasn't looking forward to the conversation with the insurers about another big claim this year!
We are now in Northeast Harbour on Mount Desert Island which has the Acadia National Park over much of it.  It is the second most visited national park in the US after Yellowstone and this lovely place makes all the stresses of the Maine coast worthwhile.  There are free shuttle buses to take you around the island and lots of hiking and biking trails to enjoy.  On Monday we took a challenging trail to the summit of the island's highest mountain, Cadillac.  It was worth the (sometimes vertical) rock scramble for the magnificent views from the top –all the way to Canada in one direction – and coming down we took a gentler path which was a glorious walk amidst pine and fir trees and over smooth granite all the way.  Yesterday we took the bus over to the main town of Bar Harbour and met up with our German friends again for a bike ride out to the island's only beach.  Lindsay had a quick paddle and didn't find the water quite as arctic as the guide books warned.
Steep ascent up Cadillac Mt:
Lindsay at the top:
Views south of the Cranberry Islands:
Sand Beach:
Since being in Maine we have had some fun wildlife sightings (for Brits anyway; it is probably all very familiar to the locals).  We have seen quite a few seals on passage and groups of small dolphins passing by.  On land we were excited to see the lovely monarch butterflies in the nearby landscaped gardens here and we like the little American red squirrels we have spotted and the cute chipmunk we saw near the beach.  We also saw 2 very large birds by the roadside which we think must be wild turkeys but we are not sure.  Oh, and magnificent eagles soaring above Cadillac mountain.
Wild Turkeys?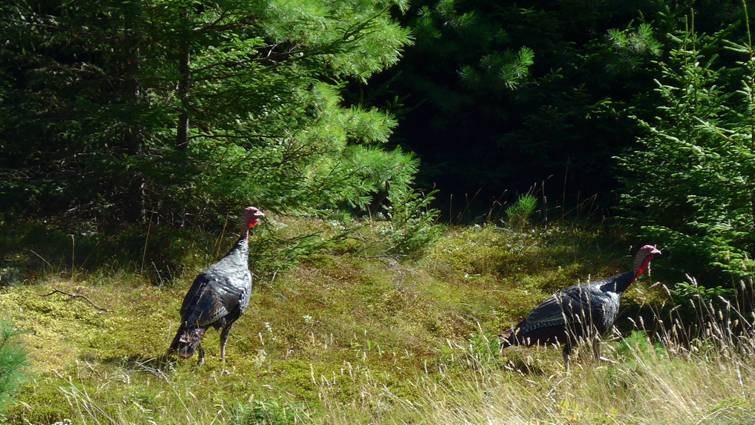 Monarch butterfly:
So we have 2 more days here to explore some more lovely scenery and then we think we will start heading south again.  We have had lovely sunny days but the nights and early mornings are now quite cool and we have changed to a warmer duvet.  First mate has needed a hot water bottle for her feet too!
---