Roseau, Dominica

S/V Goldcrest
David & Lindsay Inwood
Sat 23 Feb 2013 12:15
We left Portsmouth in Dominica on February 23rd but not before we had taken our dinghy into town to shop at the Saturday produce market.  Apparently it is one of the best in the islands and it was one of those occasions when we wished we hadn't forgotten our camera.  The scene was incredibly busy and vibrant with stall after stall of really excellent fruit and vegetables and all the stall holders urging you to buy from them.  We filled both our rucksacks with veg and tropical fruit and wished we could pop back there every time we needed such fresh food as it isn't always easy to find good stuff on other islands.  There was also a woman preacher haranguing the crowds about their sins which added to the atmosphere!
We then had another "interesting" 3½ hour sail down the coast of Dominica to its little capital of Roseau.  We had thought we would probably be motoring in the lee of the island but instead found ourselves sailing with 2 reefs in both sails in winds in the high 20s of knots.  It even got breezy enough to swap the reefed genoa for the tiny staysail towards the end!  En route, there were great views of Dominica's craggy mountains and ravines covered with dense rainforest, the occasional village at the mouth of gorge-like valleys and a few clearings for local produce or banana trees.
The sea front of Dominica's capital city:
We picked up a mooring buoy (always more relaxing than relying on one's anchor for holding) in the roadstead off Roseau and were enchanted by the place straightaway, despite the looming presence of a Thomson cruise ship which really did dwarf the tiny capital (15,000 inhabitants).  We explored the town in the afternoon and loved its ramshackle but delightful feel and range of buildings.  Some of these were really prettily kept and painted in the usual vivid Caribbean colours with balconies and "gingerbread" details, others were completely unadorned and on their last legs.  It certainly had character!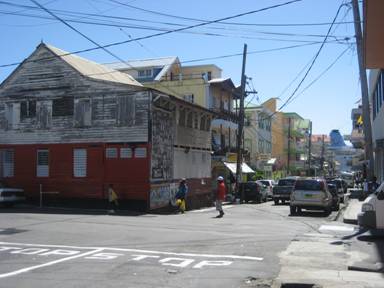 Back on the boat for tea and cake we could hear what sounded like  energetic religious singing and preaching from a stadium in town, replaced later in the evening by the local Saturday music scene.  The view of the shore from our mooring was so rustic and shambolic that it was hard to imagine you were in the country's main metropolis.  We watched another delicious sunset as we ate our supper and then an almost full moon rose over this intriguingly quirky place.  We are pleased that we have sampled a little of the spirit of Dominica and left with quite a soft spot for it.  Dominica is frequently being muddled with the much bigger Dominican Republic (we would have done that too before this I think) and a lot of its mail apparently gets sent there first.
---