Tekirova / Ancient Phaselis

S/V Goldcrest
David & Lindsay Inwood
Wed 13 Oct 2010 14:45
This was our most easterly destination for this season and we had another day of mainly motoring over flat seas. We spotted a turtle and lots of flying fish en route and the coastline was dramatic, particularly the views of Mount Olympos (one of 20 with that name apparently!). We anchored off the beach within sight of the ruins of the ancient port of Phaselis. We had a swim in the still very warm water before spending the evening on board watching the Turkish gulets come and go and having a drink to mark the point at which we would be turning around tomorrow.
Red Panda with Mount Olympos behind: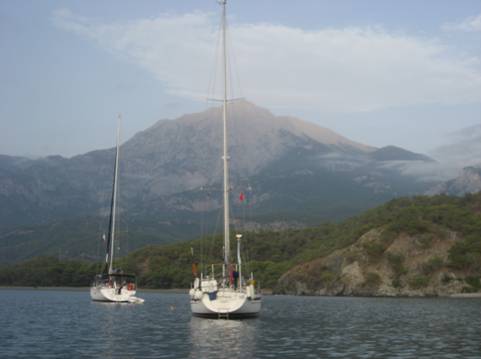 In the morning we rowed ashore early and had the ruins to ourselves which always adds so much to the experience. The city was founded in 690BC and apparently the people of Phaselis were renowned for their fast, light sailing craft and made a good living from trade from their three sheltered harbours around a promontory. Most of the ruins are from the Roman era and include a substantial aquaduct, a theatre with views across to Mt. Olympos, and a huge baths/gymnasium complex. Best of all we thought, was the imposing main street that linked the north and south harbours with the remains of a gateway dedicated to the emperor Hadrian when he visited the city. It was definitely worth the long day's motor to see this spot, especially as it is completely unspoilt with no attempts to reconstruct any of it.
---