Cartagena - winter berth

S/V Goldcrest
David & Lindsay Inwood
Thu 12 Oct 2017 13:40
37:35.766N 0:58.853W Thu 12th Oct 2017
We arrived safe & sound after 80hrs and 490 miles at sea.  Despite the forecast for sailable winds almost all the way, needless to say we didn't get them.  We started off well enough, but only had 12 hrs sailing hard upwind (with the boat heeled at 20-25°) or so before the wind died, leaving a roll as big as anything we had in the Atlantic, but much quicker.  My attempt to use the mainsail to dampen this down (standard practice normally) resulted in the clew (outer corner) of the sail wearing badly and eventually the attachment broke after only 24hrs at sea, leaving us without a main sail for the rest of the voyage.  Thank goodness that didn't matter too much as we had no more winds that would have required that sail.  We did manage to sail again for 7 hours on the 3rd day, using the two big front sails to drift downwind parallel to the African coast.  We even heard "Algiers Port Control" on the radio.
We had a few visitors this time, a lovely change from the many wild-life free journeys we've had recently.  First came a beautiful thrush who clearly wanted to rest below decks and was amazingly friendly, hopping about within a foot or so whilst I took photos.  On the last day we were visited by loads of dolphins and we managed to take some great photos in the gin-clear water: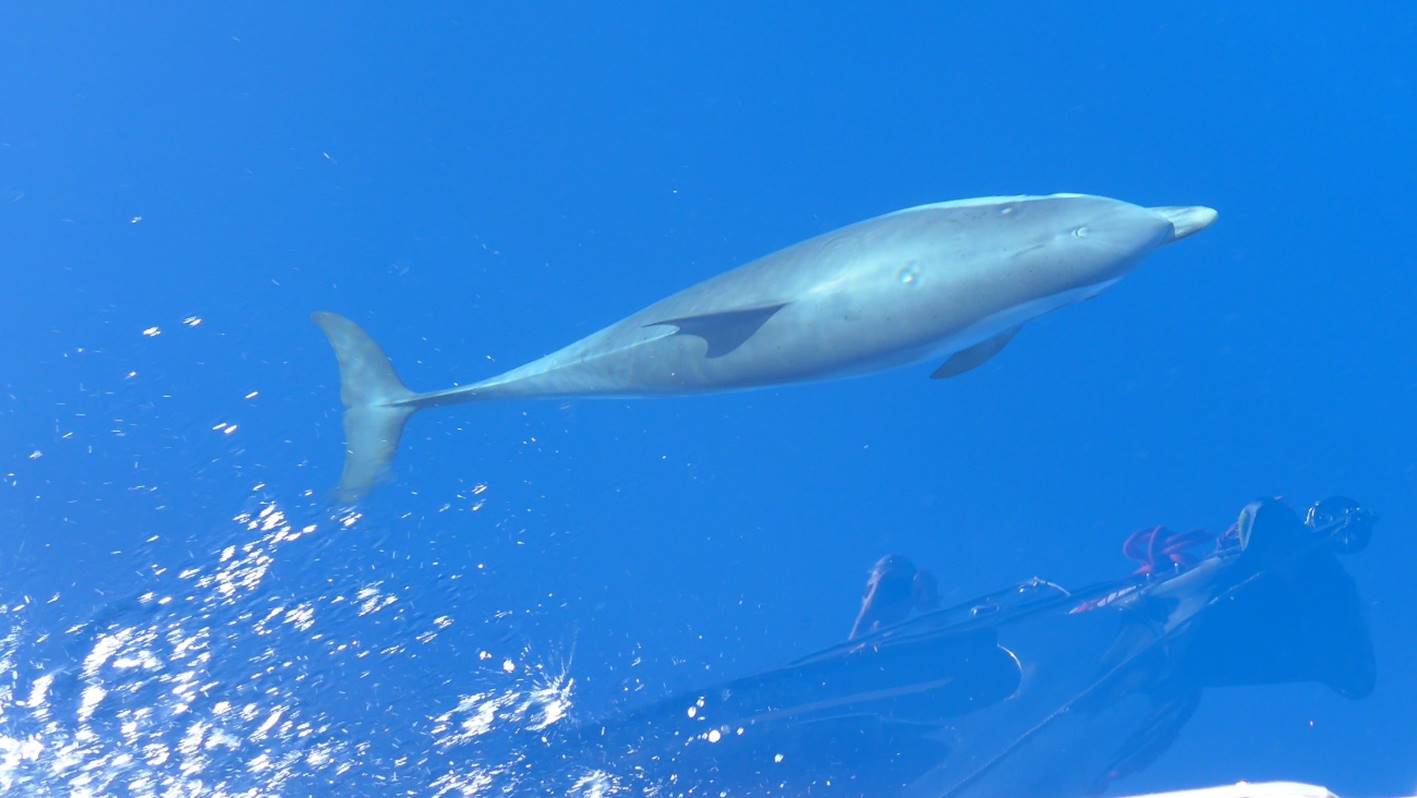 So here we are in Cartagena which we first visited 8 years ago and returned to briefly on our way back to GB to sell Red Panda.  It is a very interesting city and great to be back in Spain again.  We couldn't wait to hit our favourite supermarket, Mercadona, and stock up on Spanish goodies at low prices.  The marina is comfortable and secure and now we are look forward to getting to know some of the other yachties who may be here for the season.  The area seems to have been spruced up a lot since we were last here and it's a popular port of call for cruise liners.  We have seen four already since our arrival on Thursday and yesterday's monster (300+m long with around 2,800 passengers ) loomed over us like an enormous block of flats when we looked out in the morning.  The only downside to the place is the lack of a beach or attractive countryside to explore or run to.  However, we can see five castles on the various hills that surround the port so there should be some good walks to these at least.
The temporary view from the companionway:
We return to GB and then France early November for a couple of months, so are now busy cleaning and mending before we leave.  We have just read that Cartagena has the warmest average temperatures in mainland Europe which means we may be very keen to be back here by January!
The season's statistics:
We sailed 3030 nautical miles on 49 legs, spending 165 nights en-route.  We were motoring for 57% of the time, making last year's 40% a real anomaly.  We had an unusually high 9 nights at sea, mostly to get us back west quickly.  Thanks largely to the Greek's lackadaisical approach to mooring fees, 42% of our nights were free!
We've now done over 23,000 miles in Goldcrest, almost exactly twice the distance covered in Red Panda.
---