Cuba - Marina Hemmingway nr Havana

S/V Goldcrest
David & Lindsay Inwood
Mon 26 Jan 2015 10:00
So next stop Cuba and we left on Sunday Jan 25th and motored over flattish, turquoise seas for 14 hours. After all the US east coast shallows we were finally in waters over 100m and lots of little "sail by the wind" jellyfish drifted past us with their white sails looking like plastic flotsam. Late afternoon a young cormorant joined us for the night and after perching precariously on the boom for a while, settled down just outside the cockpit and tucked his head under his wing until well past dawn. We had a lovely sunset and then managed to sail from about 1am as the wind picked up and the seas got more boisterous. It was quite difficult to sleep in pairs when not on watch, squashed against one's partner on starboard tack – not a problem we have had when sailing just the two of us!
We tied up at the entry dock in Marina Hemingway, about 9 miles west of Havana just under 24 hours after leaving Key West and it felt like a different and much more relaxed world straight away. Various visitations from delightful officials asking none too probing questions followed and we were checked over by a friendly doctor who also pops by daily to ask if we are still healthy. The final pair, agricultural officials, were the only ones to ask for a "gift" but we were just relieved not to have any of our food confiscated, especially as supplies are not easy to come by here. Our berth is alongside in a long canal with views of stretches of grass and coconut palms across to the seas breaking nearby. It's a 7 minute walk to the toilet block but otherwise a lovely spot and we do have our bikes to make things easier. There is not much to eat or do in the immediate vicinity, but the nearby hotel offers a basic internet computer and occasional buses into Havana. There is also a country club type establishment only a 25 minute walk away where you can buy a day's entry and use the beach, pools, gym, internet, bar and restaurant. It's housed in a beautiful old colonial building and used mainly by foreign diplomats and we went there last Sunday for a day's relaxing on the sand as a contrast to the bustle of old Havana.
Arrived in marina Hemingway:
Havana is as amazing and rewarding as everyone says. It is such a joy to be somewhere with so much history, character and charm and we have spent several days wandering the streets, visiting the main museums and trying out one or two of the ever increasing number of family run restaurants. The half hour drive from the marina takes you past some of the grander and better maintained houses lining the main route, now mostly embassies and later joins the famous Malecón which sweeps along the seafront into the city. Waves quite often crash over the road and it has to be closed to traffic, as it was for a while on our first visit. We took an open top bus tour on our first afternoon which gave us an overview of the outer city including a truly enormous necropolis and the Plaza de la Revolución with its tall memorial tower, statue of 19th century hero and writer Jose Martí, and arresting graphics of Ché and Cienfuegos (another giant of the revolution) on the sides of surrounding buildings. After that, we concentrated on the old city and tracked down one of the recommended "casa particulares" (private homes) so we could spend a night (or two in the case of our friends) in town. We booked a large apartment with a shared bathroom for $25 a room after a noisy, dusty walk up one of the city's busier commercial streets to find the place. We returned to the marina in one of Havana's iconic and ancient cars, in this case a 1949 de Soto on its last legs with a delightful driver who tried out his bit of English on Lindsay and helped her with her very rusty Spanish.
Havana is a real assault to the senses, noisy, smelly with exhaust fumes from the 50+ year old vehicles, crowded with locals and tourists and never dull. There is a terrific variety of architecture and buildings in various states of preservation and decay. Some have fallen down altogether while others have been, or are in, the process of being rescued by an admirable city organisation which renovates in such a way that the old city retains its living heart and doesn't become a historical theme park. Tourist money helps to provide funds to plough back into more restoration work. The oldest square for example, "Plaza Vieja" laid out in 1559, has been completely renovated since the 1990s and that included demolishing a hideous underground car park which the pre-revolution Batista regime had constructed in this lovely location. Now it's again lined with beautiful buildings but the square also serves as playground for a primary school there and we had to dodge footballs when crossing it!
We enjoyed our night in the city and on our way back to the "Casa" dropped into a bar to listen to some wonderful local musicians. We were only sorry that we arrived late and they packed up soon after, but not before we watched a young couple get up to dance with so much rhythm and skill that it made for a memorable impromptu performance. The following morning, after a good breakfast at the casa for an extra $5 each, we toured the "Museo de la Ciudad" where the stunning 18th century Palacio it was housed in was the main attraction. We also had a look inside the huge Hotel Nacional, a major city monument dating from the 1930s and the sight of many a large American mafia get-together back then. It's a sumptuous place by any standards and apparently the likes of Churchill, Sinatra and the famous gangsters of the 30s stayed here. We didn't stop for a beer in the lovely gardens overlooking the seafront, because we were headed for another (literally) high spot recommended by the owner of the casa we had stayed in. This was the rather ugly, modernist "Edificio Focsa" built in the 1950s just before the revolution. It is a residential building with over 370 flats on around 30 floors but right at the top is a smart restaurant and bar in a tower which gives incredible 360 degree views of the city and the sea. We had a beer and excellent sandwich in the bar, admired the views and watched vultures soaring below us!
Back at the boat and close to the marina is Cuba's only yacht club, run by a remarkable character and sailing enthusiast. Comodoro José Escrich is the inspiration for the "Club Nautico International Hemingway de Cuba" which, exceptionally, has no government input and is entirely self supporting. We met the man as he is also the port officer for both the cruising clubs we are members of, and he told us of his visits to the UK and how impressed he was with the major yacht clubs there. We got the impression he is tolerated by the authorities here because of his high profile elsewhere. He would love to expand the club where, at present, most members join for the subsidised bar and establish some berths of their own for yachtsmen. He is hoping to run a restaurant at the club before too long but at the moment isn't allowed to because it would mean competition for the local government owned ones. The club does, however, hold a barbecue every Friday evening and it proved a very popular event with locals with very good food when we went along.
It is particularly interesting to learn a bit more about the lives of people here which is what happened when we ate in one of the privately owned "paladar" restaurants in the city the day before our friends flew back to the UK. San Cristóbal was in a stunning art nouveau building built in 1914 and after a very good meal we were given a little tour of the place by the doorman. He turned out to be a psychiatrist with 8 years training under his belt but only earns $50 a month for it, so has to turn to his other job to make ends meet for him and his wife and two kids. He told us that waiters earn much more than him from tourist tips (he said $200/day, but maybe he meant per week) and his future mother-in-law was none too pleased when he told her his real profession!
Steve and Malisa flew home after a week with us in Cuba and we then spent the next few days on boat jobs and chores prior to planning some excursions to other parts of the country. Thursday brought a true tropical downpour and we were grateful we hadn't left the boat as the usually open side windows let in a lot of rain as we rushed to close them.
A daunting restoration project:
Lunch in a beautiful art nouveau home:
Plaza de la Catedral, one of old Havana's four main squares
Che Guevara's image and exhortation (always towards victory) in the Plaza de la Revolución:
Havana's cars:
Our taxi (1949 de Soto) back to the marina: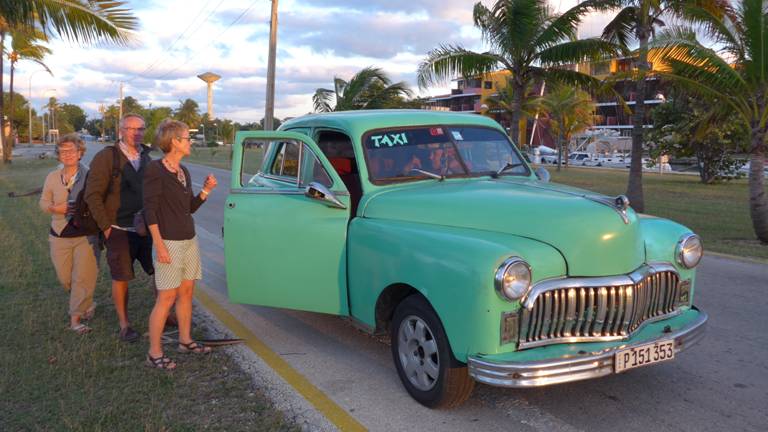 Plaza Vieja with restored buildings and work in progress:
Plaz de Armas:
The Cuban view of some recent US presidents:
A jolly army bunch:
Old Palacio, now the museum of the city: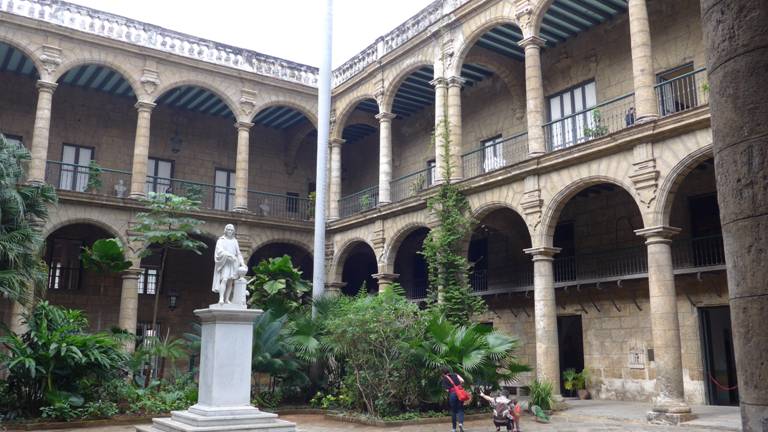 Street scene:
---