Kalamata to Argostoli via loads of places!

S/V Goldcrest
David & Lindsay Inwood
Wed 24 Aug 2016 06:18
38:10.699N 20:29.381E Mon 22nd Aug 2016
We are now on Kefalonia, having had a very sedentary summer's sailing by our standards, so not too much to report really!
We had a little excitement leaving Kalamata back on August 1st; we left just as the breeze was getting up so hoisted sails ASAP for a good beat down the Mani peninsular. As we got the genoa up and pulling, there was a loud bang and the sail started sliding down to the deck. Our genoa is seriously big and it was a bit of a struggle to tame it into a pile that we could cope with and motor back to the berth just vacated in the marina. There we discovered that the shackle at the top had broken - same failure mode as the one at the bottom that had gone back in the USA. Fortunately we had a spare, ie the bottom one that I had mended and kept for emergencies, so within an hour we were back in business, with lots of strong cord lashing the shackle in place in case it decided to part again. By this time the wind was quite strong and we had a bit of a fuss getting out of the berth (something to do with a mooring rope not being freed quickly enough). I discovered that shouting doesn't really improve these situations, but nonetheless we got away without damage. By now it was too late to contemplate sailing down the Mani peninsular so we headed back to Petalidhion for a night's restful anchorage.
We then spent two more nights in Koroni dictated by wind conditions and after that, headed back around to our favourite spot in Methoni. Both these legs included some lovely upwind sailing but first mate did forget to close the seacock in our bathroom when we tacked and had to spend a long time bailing out the resulting flood in there. We stayed another ten days in Methoni, venturing back round the corner to a glorious empty anchorage in Finakounda bay for 2 days in the middle of that period. In Methoni we got up in the small hours one night to catch the Perseid meteor shower and saw some good shooting stars. We've decided that Methoni is our favourite spot anywhere we've visited so far; a perfectly sheltered anchorage in clean, warm water with wonderful views and a great little town with all the basics you need, including tasty low cost meals.
Methoni castle and Nisos Sapientza (a boat load of refugees washed ashore here shortly after we left):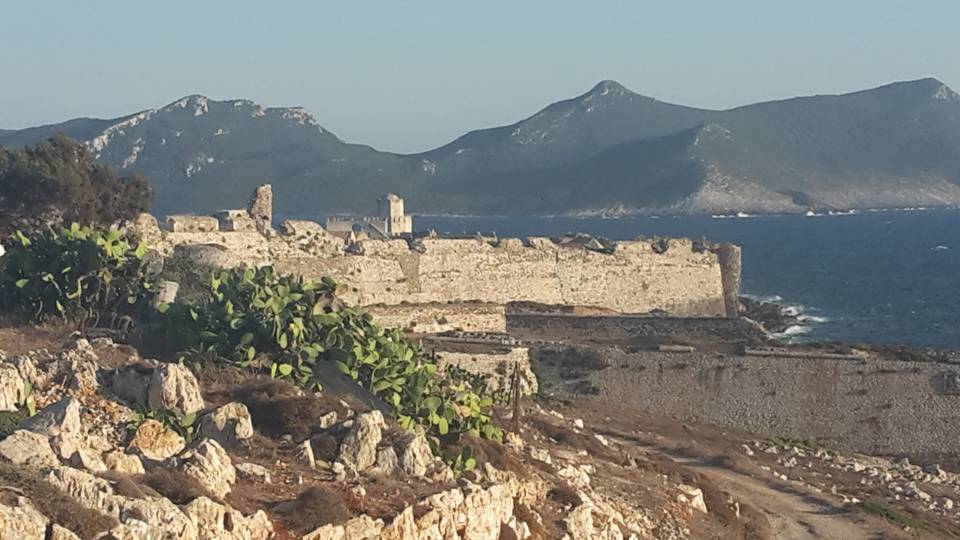 The sun sets of our long stays in Methoni:
We finally moved on north all of 9 miles to Pylos in Navarino Bay where the famous battle secured Greek independence from the Turks in 1827. Pylos is an attractive town but boat "parking" is in an uncared-for marina. It's free and not far from the town centre, but not a place to sit around on board with any pleasure. We only stayed 2 nights and then moved on north again to Kiparissia. This was new territory for us as we didn't visit this spot in "Red Panda". We had a rewarding 6 hour trip with more sailing than we had expected and tied up on a long, wide quay with 7 other yachts for company. We stopped here for 3 nights, long enough to take advantage of the water taps on the quay, check out the town and have a hot uphill walk to the old Byzantine/Frankish castle which overlooks it all. Whilst there, we also managed to have an early morning run/ swim around the large harbour and along a beach road, but the days were very hot and rather windless on the quayside and we were happy to move on again to Katakolon. This was another 5 hour or so upwind sail, again very enjoyable, with a final motor into the anchorage as the winds died. First mate was very disappointed not to be able to cool off in the water afterwards as there were large jellyfish all around us.
Moonrise over Kyparissia:
View from Kyparissia castle:
As we had been in Katakolon before when we visited the site of the ancient Olympic games, we didn't linger or even leave the boat, but left the following morning at 9am. We motored out over still, jellyfish-filled water and then managed an hour's sailing before motoring again into the afternoon. We decided at some point to head for Argostoli on Kefalonia and passed the coast of Zakinthos en route. We had 2 more hours of wonderful sailing hard on the wind and then motored once more up the gulf towards Argostoli as the wind and chop freshened against us. We motored right on to the north end of the gulf as we wanted to anchor in peace before arriving on the town quay. At the end of an 11 hour day at sea, anchoring is often the most appealing option and it was certainly quiet with only one other boat some distance from us and just the twittering and swooping of birds for company. In the morning poor skipper had to fix our blocked toilet (again!) and then we cooled off in the water briefly before motoring the few miles back to the town. We dropped our anchor and came in stern to the quay by mid morning and in still conditions. By the afternoon the breezes always make these manoeuvres more challenging and entertainment can be had watching other boats arriving. Today, there have been some dramas with high winds keeping the boats bouncing around and dislodging some anchors. We have a large motor yacht right next to us which has proved a mixed blessing. On the one hand, it has sheltered us from the worst of the blasts, but on the other, it also had problems with its anchor and started to drift towards us rather alarmingly at one point. Oh the joys and anxieties of a Greek town quay! This is the first time in our nearly 6 weeks in Greece that we have been is such a location and mostly it makes an enjoyable change to be able to step off the boat straight into the heart of things or sit on deck and watch the world go by.
We will probably stay here at least a week and then think about heading back west to Sicily. We need to be in Malta by mid September for work on the boat and have confirmed our berth in Ragusa Marina back in Sicily for the winter from October.
---