Mytilini, Lesvos

S/V Goldcrest
David & Lindsay Inwood
Thu 3 Aug 2017 14:30
39:05. 892N 26:33.442E Tue 11th July 2017
After two days in lovely Mythimna, we motored along the north coast of Lesbos and saw plenty of evidence of the recent refugee arrivals from Turkey with broken boats and discarded lifejackets littering the shore line. That night we anchored in Ormos Palio, a quiet bay with a creek in the corner of a little beach and lots of ruined stone houses on the hillside. After some delicious swims, we four sat in the cockpit and watched a magnificent, red full moon rise over the islands beyond us with the lights of Turkey just behind them.
At anchor in Ormos Palio:
The following day, we had at last had a terrific downwind sail in 22kts of wind over a flat sea which whizzed us down the east coast of Lesvos to arrive in the main town of Mytilini in time for a late lunch. Lesvos, Greece's third biggest island, has 11 million olive trees and is also the world's major producer of ouzo, so agriculture is very important to the island's economy. Mytilini is a large town by island standards and felt very noisy and rather overwhelming. We berthed in the marina as we had to leave the boat somewhere secure whilst we flew back to GB and were amused to find it owned by a Turkish company. It was uncomfortably hot with zero wind when we arrived and even Patsy and Roger from Oz declared it pretty extreme. We escaped to the yacht club bar more than once as it at least had some modest air conditioning. The walk into town from there was along a very busy road but there was a large supermarket close by and plenty of tavernas to choose from on the main waterfront or further into the older parts of town. In between preparations to leave Goldcrest for a while, we did manage to tour the archaeological museum with its main exhibit of some impressive mosaics from a local Roman villa and a pair of ancient Greek gold crowns from somewhere on the island. We also tried to explore the extensive, crumbling castle ruins on the headland but found them closed to visitors, (probably too unsafe).
Mytilini Castle: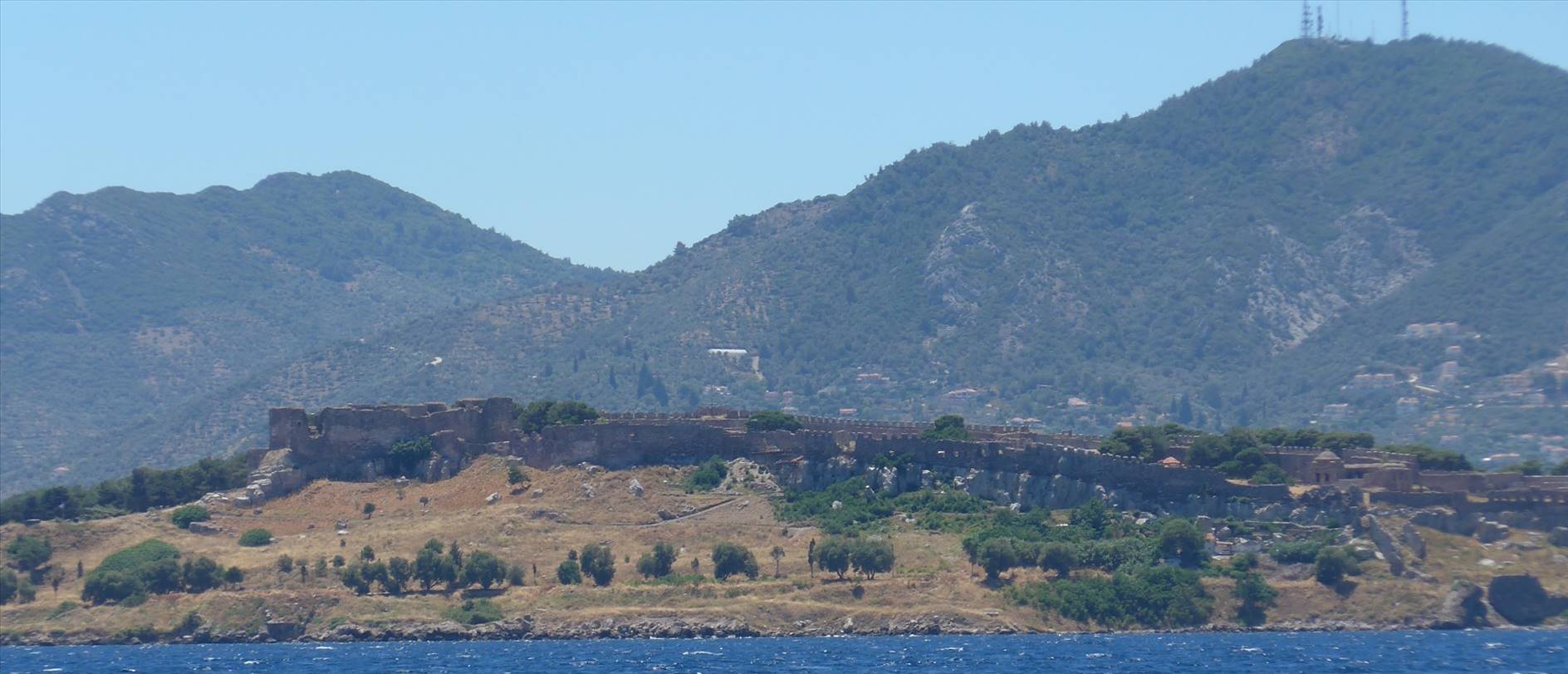 An old Greek diadem:

On Friday, July 14th we took the very large Blue Star ferry to Athens along with Patsy and Roger who were flying back to Sydney from there. We headed for GB and then France, to visit family and especially our grandchildren.
---