Les Saintes

S/V Goldcrest
David & Lindsay Inwood
Tue 19 Feb 2013 14:09
We occasionally get asked what we do with ourselves (some out of genuine interest rather than disbelief that we achieve so little), so we thought we'd give you "a day in the life of…". Actually it's hard to give a typical day, as it depends on whether we are moving on and how long we are staying somewhere. Anyhow, we're in Les Saintes for a week with great internet access, so it seems like a good chance to write a bit more.
The pretty Mairie at Bourg des Saintes: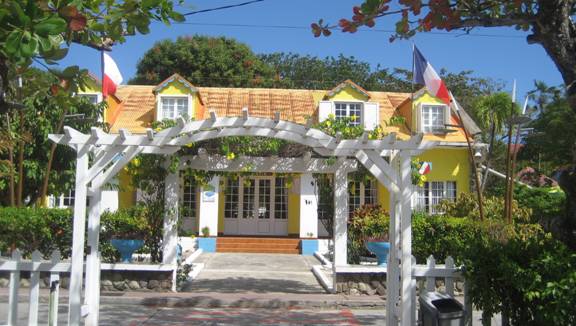 Most days start with coffee and a good read in bed. It sounds terribly indulgent, but my excuse is that, months after damaging it crossing Biscay, I still have a bad back and sitting up in bed is about the most comfortable I can get on Goldcrest. On a traveling day we don't like to arrive at our next destination too late, so sometimes surprise ourselves by getting up really early – i.e. no coffee in bed! If we are ensconced somewhere easy, then a run before breakfast is occasionally in order. Today, for example, we were ashore before 8 to run/walk up the volcanic hill that towers 1,000ft over the anchorage. There was a good road and track to get up to the Napoleonic watchtower, but the way down the other side was a steep scramble over boulders and through a dense wood full of interesting looking tree trunks and, of all things, hermit crabs. We managed to run about 3 miles in a 4 mile circuit, back through town to pick up bread & croissants for a very late breakfast on board after a quick swim to cool down.
The view of Les Saintes from 1,000ft:
…and us enjoying the view - shame it was too misty to see the nearby islands.
Most of the time there is a bit of a list of repairs or improvements hanging over us. Yesterday I finally got round to automating the autopilot switch-over. The careful reader amongst you might remember that we have continuing problems with our Raymarine autopilot when it is steering using the wind direction, a problem our back-up autopilot doesn't suffer from. It was set-up as an emergency back-up, hence it takes a while to swap over, and hence the project to put it on a single switch that can be activated en-route. Job done, along with some tidying up of the solar/wind regulator controls. Being Sunday yesterday we thought we'd join the French at their main meal at lunchtime. Unfortunately the work meant we were too late into town for the main restaurants (who seemed to be full before noon), but we nonetheless had a pretty acceptable menu du jour for €15.
Les Couleurs du Monde, a rather delightful bar where we've enjoyed a few rum punches…
"The Doctor's house" bequeathed to the town on condition that it is always a doctor's house, despite looking like a boat!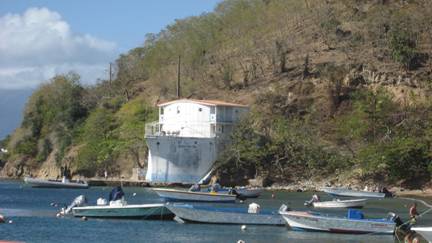 Then it was back to the boat to finish jobs & indulge ourselves in our favourite hobby – boat watching. This being a very busy area there is a constant stream of boats trying to find a mooring (mostly it's full by mid-afternoon). We like to spot any other Brits (very thin on the ground since we left Antigua) or indeed any non-French boats in this French territory. It's quite remarkable how many multi-hull boats we've seen since crossing the pond. Catamarans were pretty rare in Europe, where berthing is more often than not in marinas, but over here they are as common as muck (today, 15 out of the 40 or so boats moored near us). And they aren't small either – we are often surrounded by 50ft plus monsters, sometimes with just 2 on board. It is always gratifying to see them bobbing around as uncomfortably as us mere mortals when the chop gets up though… Very occasionally we get to see some wildlife from the boat. There seem to be a pair of dolphins visiting this bay, we've spotted them twice now, unfortunately very briefly. Deshaies had some visiting turtles, and most places provide at least a few birds to watch. Here we see Pelicans and Frigate birds catching their supper on most days.
A hard day's sailing:
On travelling days all this changes. We like to have the boat ready to sail the night before, so outboard stowed, dingy on davits, bimini away & ropes ready to go. Then we occasionally do a bit of sailing. On arrival there is always a bit of a frisson: what are we going to find, will there be room, how easy is it to anchor or find a mooring etc. Choosing the spot is more often than not a bit tense; we don't always have exactly the same ideas about location… Depending on our time of arrival the priority then might be a cold beer or a dive down to check the anchor or mooring – the latter are not all in good enough condition to withstand a 20 ton monster blowing around. The boat normally needs a bit of a sort out after a day's sailing and occasionally the worst of the salt encrustation needs to wiped off. If the location is clean enough we will normally have a good swim – Lindsay getting some exercise whilst I snorkel around the boat wiping the hull clean if there has been a build up of goo (which only takes a week or so to build up but normally comes off easily with a brush or scouring pad). The bits below snorkelling range have got quite grotty and I'll need to get the Hookah compressor out sometime soon (I'm waiting for an anchorage quiet enough).
Every new town needs exploring for supplies, so unless we are rushing past, most new places will have a routine of day1: where are the shops and which are best. Day 2, shopping some more if we are low on supplies. Day 3, bored with these shops, lets move on!
Les Saintes "fishing harbour" with the 1,000ft peak behind:
We wrote this yesterday (Monday) and have had another great run/walk this morning, covering the other end of the island and it's Napoleonic fort – fantastic views this time. The wind didn't stop all night and it got quite boisterous, so we were up early. Despite the boat's motion here we are still planning to stay until Thursday or Friday before moving on to Dominica.
---