Essaouira

S/V Goldcrest
David & Lindsay Inwood
Sun 14 Oct 2012 07:45
We left Rabat/Sale on Sunday with our minds open about whether we were headed directly to the Canaries or via one last stop in Morocco.  The forecast was for mostly brisk (F4-5) following winds – so a great sail, but with a big Atlantic swell building up to 4m for the 2nd half of the route.  Instead we had a gentle headwind for the 1st day (enough to sail for half of the 1st 24 hrs) that turned into a strong (F6) wind from directly behind us, accompanied by rough seas - not so much a swell but a roller coaster!  We really enjoyed the first part, especially getting Goldcrest to show off her sailing abilities in light headwinds (which impressed us yet again), but hated the last section, especially as it was clear we had to make that last stop in Morocco and therefore had to keep the boat speed down to avoid arriving at night.  She wanted to go at 7 knots or so, and we couldn't get her to the necessary 4 knots and had to "heave to" outside the port.  Heaving to should mean the boat stops at a comfortable angle to the wind & waves, but (this being our first attempt in Goldcrest) the reality was a slow drift out to sea with the waves hitting us on the side.  It was also a cold night considering the latitude and we had to hunt out some warmer clothing in the windy conditions.  We were lucky though that we avoided the most intense concentration of fishing boats, nets and buoys we've seen so far.
Soon after dawn we approached our second Moroccan port, but this was an even bigger adventure!  The data we had implied something quite small, room for 3-4 yachts but with no alternative anchorage.  So in strong headwinds we mosied carefully in (past 2 boats peacefully at anchor!), past sandbanks and rocks and into a tiny harbour stuffed to bursting with fishing boats.  As the depth sounder was saying we should be aground we could see the area for yachts was full but we were hailed by some Dutch (in a Contest we had seen in Rabat) and told that there would be room for us later.  So we sat at anchor for a couple of hours off the long beach here (complete with camel rides) before coming in to berth.  For various reasons we had to move three times before we could settle down, moored alongside a big orange fisheries protection vessel.  The last move was in very strong gusty winds and it was a real struggle to get Goldcrest alongside feeling as weary as we were by then.  I've spent quite some time unknitting the mooring lines that the locals had "helpfully" looked after for us, so we can now get away without as much fuss.  Anyhow enough of the sailing stuff and onto the locale.  This place is simply great – but I'll let Lindsay tell you more…
This is one of those landfalls you are so glad you didn't miss out.  The town's history goes back at least to the Phoenicians in the 7th century BC and the islands just off it were the source of the imperial purple dyes of the Romans.  As we tied up in the harbour the scene was one of incredible activity and colour.  The many fishing boats were unloading their cargo and large crowds had gathered to buy at source.  On one side of the harbour wall used fishing boats were drawn up on the slip for refurbishment, whilst on the other, new boats were being constructed with wooden hulls and metal superstructures.  They were supported on rough wooden scaffolding that didn't look as if it had changed much since Roman times.  There were plenty of tourists enjoying the scene as this is a popular stop on a Moroccan itinerary it seems, but the flavour is genuine and the town a real gem. 
Goldcrest is tied up right next to a harbourside restaurant called "Chez Sam" which is a very popular spot and last night we were lucky to arrive there early on our first evening as the place was completely full soon after.  Had  a delicious fish meal in the end but had wondered if we would be able to make it off the boat at all to enjoy our first night out since arriving in Morocco.  The low tide had left us with a very challenging climb, first over the railings on to the boat to which we are tied, then a large step from the top of those same railings across to a wood and rope ladder up the harbour wall.  First mate has short legs and nil confidence when it comes to stretching them and grabbing a rope in the dark with some very, very dirty water metres below.  Did it in the end but not without raised blood pressure. 
Our second day here started with the same scary exit from base, but the reward was an exploration of this terrific place.  The main route into town from the harbour was blocked by a film set complete with Arab slave traders.  You could see why they would film here with its great sea ramparts and European cannon lined up on the top looking out over a dramatic, rocky coast.  Essaouria means "fortified place" apparently.  The streets were incredibly lively and the usual narrow lanes led off in all directions.  We did some fruit and veg shopping from the stalls and noted that pomegranates were the most ubiquitous fruit at this season.  Pity they are not the easiest fruit to deal with!  Later we found the streets of woodworkers for which this town is particularly renowned and especially their co-operative housed in a beautiful courtyard.  We admired the gorgeous thuya wood items and the marquetry work that has been famous since Cicero praised it in Roman times.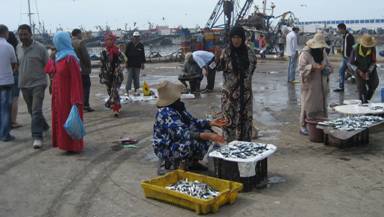 Adjacent to the harbour there are numerous little open-air fish restaurants that display their very fresh fish and invite you in with tempting offers.  However we ended up having a delicious Moroccan lunch in a delightful courtyard setting instead.  For less than £5 we had fish soup and then a "pastilla" a Moroccan pasty which was a new experience for our tastebuds.  It was a sweet pastry topped with cinnamon and almonds with a chicken filling. We accompanied it with ginger and mint teas, much better than a beer!  We strolled along the beach front afterwards to walk off our meal and were amused to see how an extra high tide had left little sandy islands with beach chairs (and some sunbathers) surrounded by the encroaching water (an unappealing brown colour and quite cool here). The palm leaf umbrellas, leaning at odd angles, looked like some exotic flora in the shallows.
Tonight we are trying another recommended restaurant and it has wi-fi so we hope to post this from there.  Not looking forward to climbing that wall again though…    
From here we will head straight to the Canaries, another two nighter, and may leave tomorrow afternoon or maybe Friday depending on conditions.
---