Pythagorion on Samos via Emborios on Chios

S/V Goldcrest
David & Lindsay Inwood
Tue 8 Aug 2017 16:30
37:41.379N 26:56.791E Tue 8th August 2017
We left Oinousses on Sunday 6th after enduring one of the downsides to a high season visit to the islands – loud music from first, a live concert and then from a nearby bar which lasted until 6am. The bells of the main church and the chanting of the priest started at 7am!! We thought this was pretty bad, but worse was to come the next night…
On our 25 mile passage down the east coast of Chios we passed busy Chios town with its long waterfront and remains of large factories and one or two mosques. Inland were high and extremely barren mountains until the island greened up further south with citrus groves and the mastic growing area for which the island was famous and favoured in Ottoman times. Mastic produces a type of chewing gum which the Sultans enjoyed apparently, as well as a flavouring still used in sweets & drinks.
We had a great downwind sail, goose-winged, and arrived mid-afternoon in Ormos Kamari with its little settlement of Emborios. We anchored in the middle of this tiny, pretty cove with rugged cliffs at the entrance and had best choice of where to go as the first boat in. After some lovely swims and a peaceful evening on board, we were a bit alarmed to see another live concert type set-up appearing on shore. It turned out that we had arrived on the main night of the year for locals when they celebrate a saint's day with an all-night performance. So for the second night in a row we were bombarded with Greek style music which was amplified by the surroundings and incredibly loud. We kept praying for it to finish as the night wore on, but in the end we got up for breakfast with the band still playing and singing. The French couple on a neighbouring boat gave up at 4am and went and joined the party. The noise eventually stopped after 8am so we went back to bed then to recover for a while!!
We spent another day and night in this spot relaxing, swimming and, in skipper's case, doing some bottom scrubbing under the boat. After supper ashore, we lay on deck to escape the heat below and watched a partial eclipse of the moon. Our second night was much more peaceful but very hot still.
The following morning we left early and had a 10 hour passage to Pythagorion on the south east coast of Samos. It turned out to be the usual mixture of strong and no winds with an exciting run in the acceleration zone between Samos and some outlying islands. The bleak mountain peak of Mt Kerketefs was impressive and we shot along goose-winged again as we turned the corner along the southern coast. We finally anchored in the very large harbour at around 5.30 pm and immediately dropped into the water to cool off a bit. We were anchored off a beach where each evening sunbathing loungers and umbrellas were efficiently replaced by tables and chairs for water's edge dining. We slept the first part of the night on deck as it was exceptionally hot below, even out in the anchorage.
Pythagorion is so named as it was the birthplace of Pythagoras and it was famous in ancient times for its three construction feats: a long harbour mole, its huge sanctuary to the goddess Hera and for the Tunnel of Evpalinos. It was most powerful in the 6th century BC under the tyrant Polykrates and people came from far flung places to visit the holy shrine and leave offerings. The tunnel was built in 580 BC to bring water to the city, then with more than 60,000 inhabitants and was an incredible engineering feat. Evpalinos' calculations were so accurate that when the tunnellers met in the middle of the mountain, there was no vertical error at all. The tunnel is over 1,000m long and 100m deep and you can only pity the poor slaves who toiled over it for 10 years. We visited it where you can walk along a service tunnel for about 100m and look down onto the water conduit way below you. We also visited the town's smart museum with lots of excellent information on the ancient history as well as plenty of interesting exhibits. We were especially intrigued by one statue of a woman where two different coloured marbles had been used, pale for her bare skin and dark for her draped clothing. We had never seen that before.
Sculpture of Pythagorus with Goldcrest at anchor:
The tunnel:
Pouncing ivory lion:
Helmet shaped perfume bottle:
<![if !vml]>
<![endif]>The next day we took the bus to Samos Town, also known as Vathy, to visit the archaeological museum there. It is stuffed with treasures from the island's heyday over 2,500 years ago and really highlighted the movement of people and trade goods drawn to a famous site. There were offerings recovered from the shrine to Hera from such places as Assyria, Palestine, Egypt, Armenia, Iran, Cyprus and even Andalusia. There were amazingly well preserved little wooden artefacts unique to Greece, beautiful ivory pieces and lots of bronze figurines and animals. There were numerous, impressive bronze griffin heads which used to adorn the rims of large cauldrons and would not have looked out of place in a Harry Potter scene. The other star exhibit is a massive, more than twice life-size kouros (statue of a young man), dating to 580BC and 4.75m high (right). Whilst in the town, we walked along part of the waterfront of this huge bay which is not a great place for yachts - too hot and enclosed. We were happy to return to the breeze of the anchorage for a third night away from the bright lights of the busy frontage.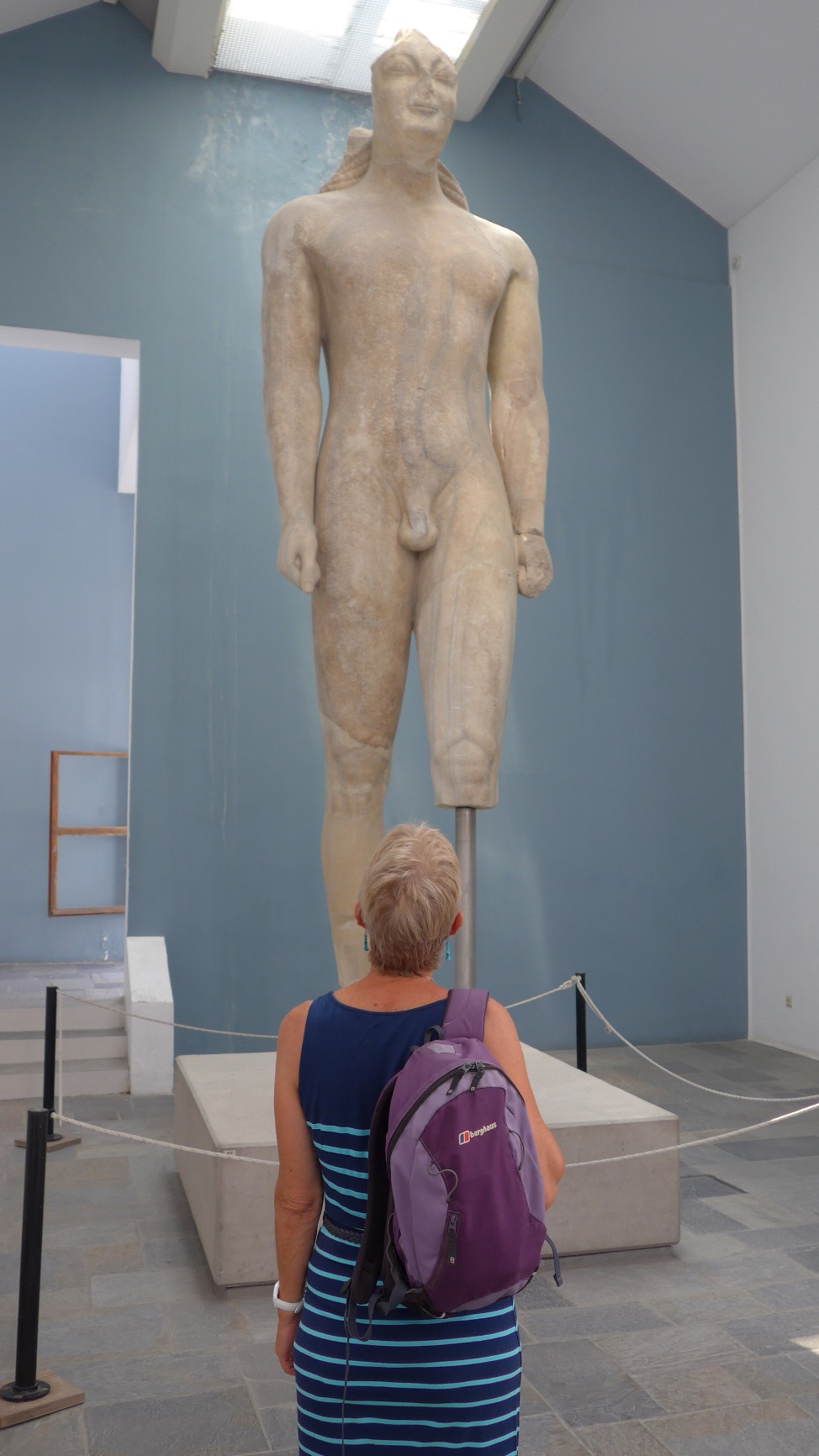 ---