Bayona

S/V Goldcrest
David & Lindsay Inwood
Sat 11 Jul 2009 11:20
Our last port of call in N. Spain.
This is a very pretty spot with a lovely position for the yacht club and some gorgeous walks and views around the headland, so we are tempted not to rush away towards Portugal for a day or two. Our previous spot, at anchor off the beach at Cangas, was also delightful and we did stir ourselves to swim ashore, run along the beach and swim back to base – a good excuse for the next beer. There was also a very large Friday market in Cangas which was great to stock up on fruit and veg and gawp at the fish and shellfish stalls.
We ate in the yacht club last night, slightly disconcerting as we thought we were going to be the only ones eating, until the locals started turning up after 10pm! We were sitting next to their trophy wall, which contained a list of the Solent to Bayona races – hosted by this club (MRCY) and the Royal Lymington YC!
Off now to do walk along the parapet of the medieval walls here for some more great views.
View across to the castle/Parador.
View from the castle out to the Islas Cies: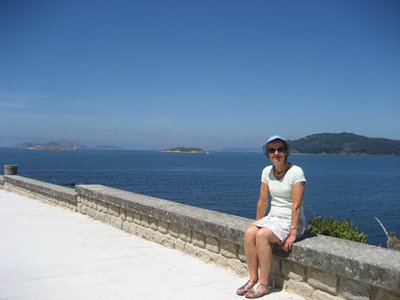 ---