Ischia via Pompeii

S/V Goldcrest
David & Lindsay Inwood
Sat 21 May 2011 16:30
Well here we are bobbing around off the island of Ischia in the Gulf of Naples.  It's a good spot although it gets a bit lively when the numerous ferries and large motor yachts dash past and throw up a challenging wake.  This is our first anchorage this year, apart from our very first night after leaving our winter base in Crete.  We are grateful to have found a place where we can anchor and avoid the very high Italian berthing costs (€51 here and that wasn't even for the main town harbour).
We had a busy time whilst based in Salerno as from there we took the train 3 days in a row to see the sites.  We started with a day in Naples to view the exhibits in the Archaeological Museum, particularly those taken from Pompeii.  The fabulous mosaics were the star attraction.  With their incredible detail and vivid colours they seemed more like oil paintings.  Afterwards, we refuelled with a pizza in the home of the pizza and then walked for hours around the city.  Think we got a flavour of the place including its seedy, tall narrow old streets and its more upmarket waterfront.  It was a bit of a culture shock to be in such a big and chaotic city when we are more used to small seaside towns. 
On the next 2 days we "did" Pompeii and Herculaneum and wouldn't have missed either.  They are very different; Pompeii having been a large and important place for its time (population about 20,000) and buried by the ash from Vesuvius' explosion, whereas Herculaneum was a modest seaside town of about 4000 and was buried by pyroclastic flow.  This is a sort of high speed super hot ash that solidified fast and preserved organic materials like wood as well as encasing everything in at least 16 metres of volcanic rock.  Pompeii had the flavour of a very wealthy town with an imposing amphitheatre and forum, at least 2 other theatres as well as a large sports field with swimming pool and numerous very elegant villas.  The rich Romans of these parts certainly lived well!  In Herculaneum so many of the buildings were close to intact and seemed full of the ghosts of the inhabitants.  The town used to be by the sea and you could just picture the people who owned the houses with balconies overlooking the water sitting there to enjoy the view and keep an eye on their goods and boats coming into the warehouses below them.   Some houses still had their wooden window frames and the iron bars across them and there were wooden beds and partition doors too.  One shop has a painting outside of various wine jars with their costs and an advertisement below that for a forthcoming show.  It's almost impossible to believe that we are separated from these Romans by 2000 years.
After all the sightseeing, it was a welcome rest to have a day at sea yesterday.  Once again there was no wind most of the time, so we motored along the lovely coast admiring the famed resorts of Amalfi and Positano with a brief glance towards Capri (far too expensive to even consider visiting).  Where we are anchored now, we are just below an imposing rocky island with a castle on top and only a short row to the shops and restaurants just across from us in the town.  That meant inflating our dinghy of course which is never easy on a rocking boat!
A typical Naples street:
Looking from Naples harbour towards Vesuvius:
One of the sumptuous wall paintings in situ in a Pompeii villa:
The excavated waterfront at Herculaneum with the beachside warehouses below and the villas with balconies overlooking the "sea":
One of the houses of Herculaneum with its original wooden partition doors:
Looking along a street in Herculaneum: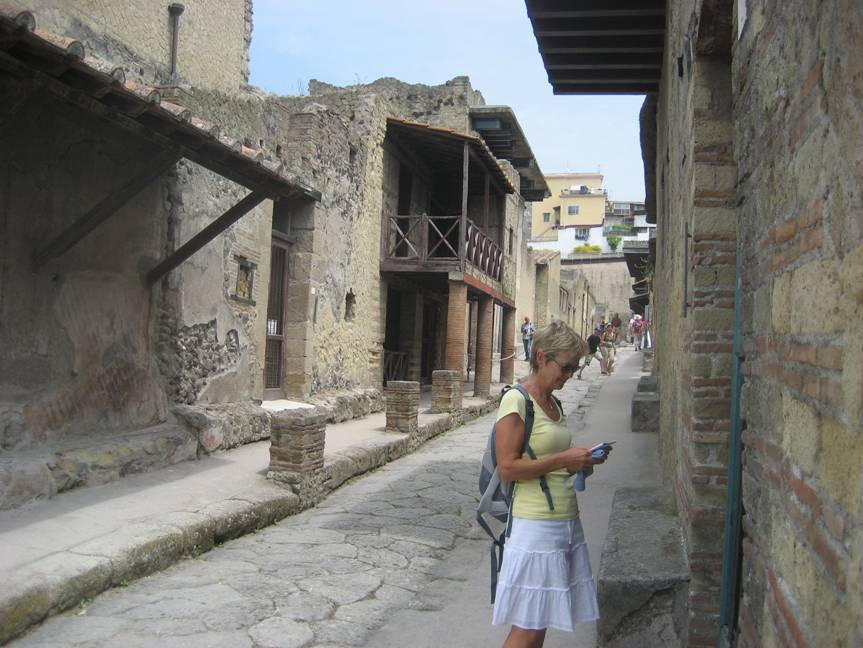 The view from our anchorage at Ischia:
---