Boston

S/V Goldcrest
David & Lindsay Inwood
Sun 24 Aug 2014 12:30
The next day we planned a long passage up to Portsmouth in New Hampshire, so left at 6am on a beautiful morning. We again changed our plans however and decided to head for Boston as that was where the wind was trying to take us. Off the tip of Cape Cod we were excited to see several whale blows in the distance, though we only had a glimpse of their backs. Provincetown used to be a very important whaling town and still offers whale watching trips throughout the season.
We had a lovely sail in light winds for over 4 hours and then had to motor as the winds disappeared altogether. I think we might have said this when we left Trinidad as well, but it has to be said Goldcrest is sailing wonderfully well, this time really impressing us with her performance sailing into quirt light winds (making 6kts in only 8-9kts of true wind in flat seas). We arrived in Boston Harbour Sunday lunchtime and the place was incredibly hectic both on and off the water. We passed some of the huge harbour's attractive outlying islands and many tripper boats and ferries dashing about. Boston is a very boat friendly place and we took a mooring from the Boston Harbour Sailing Club which put us just off the major waterside attractions and at the centre of all the activity. We were quite shell shocked by it all to start with and just sat on deck watching everything. Later we went ashore in the (free) club launch and wandered around until stopping for a delicious early evening seafood meal in "The Barking Crab". Boston has been transformed since we were last here over 10 years ago, especially as they have finished burying the old highways in the "Big Dig" project. The result is delightful with far better access to the waterfront and lots of new green spaces.
Today we explored the Italian quarter of North End and may return there this evening for our anniversary supper. We will spend another day in the city tomorrow as there isn't much wind for onward sailing until Wednesday, but then we hope to cover some miles in our quest to reach Maine before the summer ends!
Approaching Boston's inner harbour and city centre:

Moored with the law courts behind us:
…and with Long Wharf (which used to be 1,000ft long) the other side of us: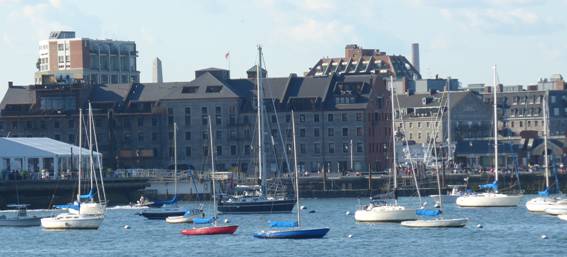 The view from the boat by night:
---