Riposto (Sicily)

S/V Goldcrest
David & Lindsay Inwood
Mon 2 May 2011 11:45
We left mid-morning for our 2nd over-nighter to Sicily, expecting light winds and a lot of motoring. Thankfully we had good winds to sail out of the bay, but had great difficulties making any headway on port tack. For some reason we sailed perfectly normally on starboard, but were at least 10 degrees worse off, slower and with "lee helm" on port (info just for sailing friends who will be called on for help soon!). After considering returning to Crotone, we decided to head off for a few hours and see whether things improved, which they did (in the sense that we had to motor anyway, so what difference did it make if the boat wasn't sailing well?).
The avid reader may remember that last May we were blessed with the company of 3 swallows overnight. This year it was a spotted flycatcher (who only stayed a while) and then a single swallow. This one also flew below looking for a roost, but stayed with us for less than an hour, as the boat was by this stage moving pretty alarmingly and noisily, scaring the poor thing away from its warm night's roost. L was host this year, so was pretty disappointed it didn't stay long, but it did sit on her hand for a while.
The night just got grimmer and grimmer. We had one squall after another with lightening, rain and boisterous seas until dawn. However, we managed to sail for 7 out of the 25½ hrs passage and we made pretty good time (142nm). We got glimpses of Mount Etna as we approached the large man-made harbour that lies right under its flank, but mostly it was shrouded in thick clouds. The morning was much more cheerful as we motored towards Sicily and we had waves of wonderful scents reach us whilst still out to sea from spring shrubs and flowers. The unpretentious, grid layout fishing town of Riposto felt so Sicilian as well as very welcoming and completely un-touristy. We really liked the place.
As you might have guessed, our purpose in heading here was to visit Etna. We had some great views from the marina, but nothing quite prepares you for the reality of jumbled lava flows and eruption cones (some as recent as 2003) and the COLD. We were well prepared with cold weather gear, but boy it was freezing up there at 2,700m. The whole experience was a bit of a tourist production line and expensive, but really worth while.
The view from the boat: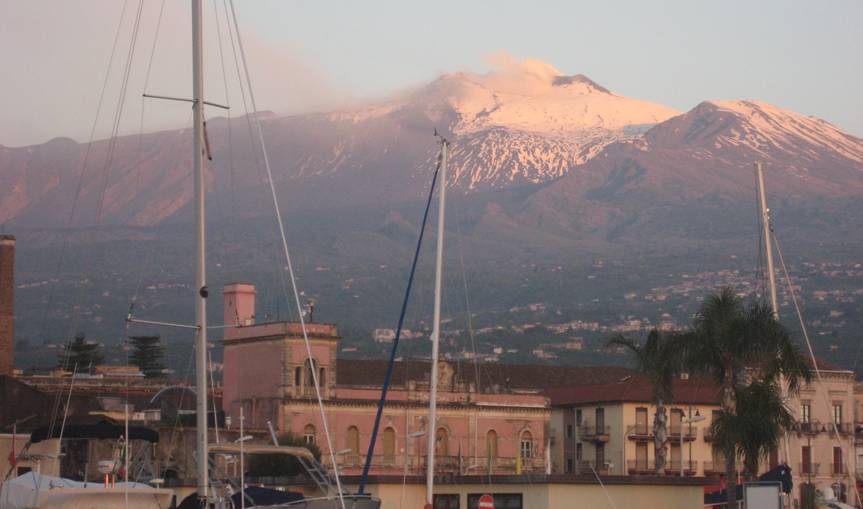 Looking up from 2,700m to the summit at 3,300m
The cable car – part of the £100+ experience to get to the top!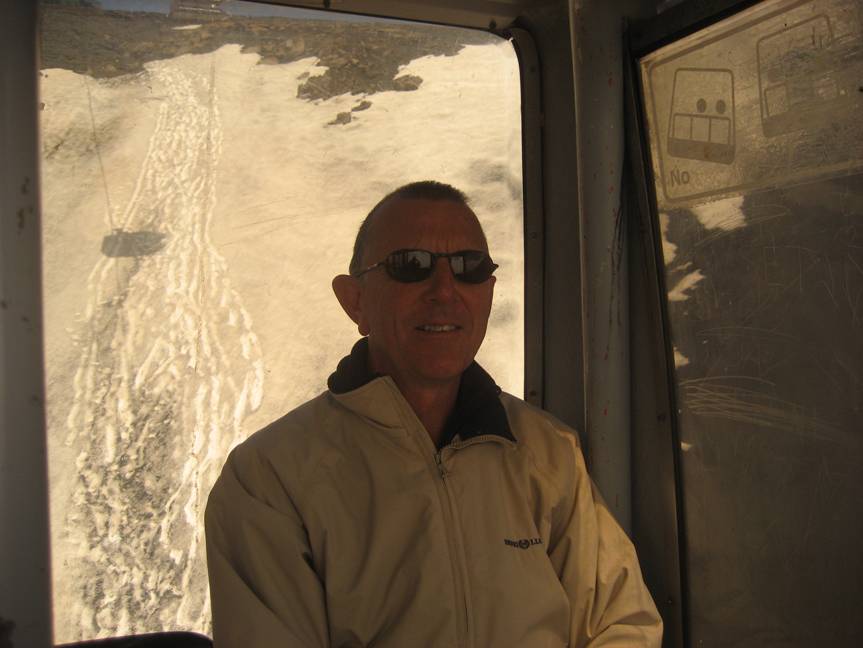 We really enjoyed being back in Sicily. Their produce is quite fantastic and L made friends everywhere using her Italian (well, sort of Spanish Italian Greek really) amongst really friendly people. One other difference from Greece: they don't seem to eat out on the scale we were accustomed to. We ended up with one supper of wine and pistachios (thank you Brian & Joe) as we could find nowhere in the town!
---