Reflections on our 1st ocean crossing

S/V Goldcrest
David & Lindsay Inwood
Tue 1 Jan 2013 12:00
So here we are in this lovely anchorage close to the renovated old buildings of Nelson's Dockyard and still can't quite believe we have crossed an ocean to get here! We've had a couple of days to rest, swim in the gloriously warm water, and explore our immediate surroundings. Last night we saw the New Year in accompanied by Antigua's finest firework display – set off just yards away in the harbour, it was pretty noisy and spectacular (and woke us up…). Steel drum and reggae music from a famous location just above us on the hilltop added to the local atmosphere on Sunday night and we have enjoyed our first meals ashore including the Caribbean fast food "roti" (a sort of curried chicken wrap). There are some great walks to be had from here up on to the heights either side of the harbour with their old fortifications and we hope to exercise our lazy leg muscles soon. Meanwhile, we wanted to capture a few thoughts about our crossing and post the photos we couldn't send en-route:-
Leaving the Cape Verdes and the start of rough seas:
Achievements on passage; a perfect loaf and a perfect "goosewing" sail into the sunset (gennaker and genoa):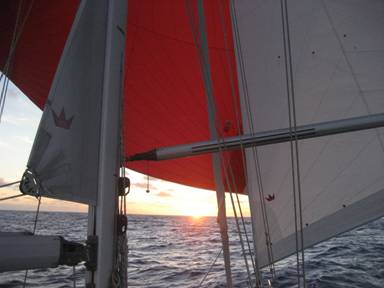 For a few hours we had very little swell and light winds on our quarter and the gennaker drawing well:
And somewhere, over the rainbow, lies English Harbour, Antigua!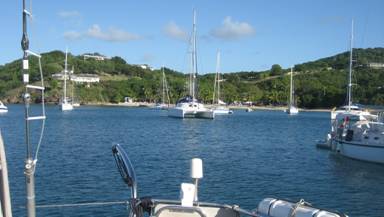 Arrived, paddling in 27degree waters:
We are quite thrilled to have done our 1st serious passage and we more than coped – we enjoyed it! I (D) won't say I enjoyed every minute as some sections were pretty challenging one way or another. So, here are a few thoughts about our experiences. Some of this will only be of any interest to fellow sailors, so non-sailors please forgive or skip this!
- From our researches I was expecting the wind to be on our quarter most of the way, not dead astern as we had pretty well all the way. This had implications:
- Sailing dead downwind it is impossible to stop the boat rolling if there is any swell or waves, even a foot or two can set the boat off. We weigh something like 20 tonnes and have one of the most stable mono-hulled boats you can get, but nonetheless the motion was pretty challenging for me (D). Lindsay found it not so bad, attributed to being in better physical shape from pilates-like exercise, but also being mentally tough and resilient. I found that my aerobic fitness (from running) didn't help one jot, and I guess the thought of having to manage the physical aspects of the boat under such conditions weighed on me quite a bit. The sails, spinnaker pole, boom and everything on a boat of this size are seriously heavy and exert big forces both from both wind pressure and the rolling, yet you just have to cope, even when the platform you are working on is rolling 20 degrees either side of upright.
- Most of the time you can't cope with a drink plus something else, making tea and cake, or wine and pistachios a wasteful indulgence! Either the drink, food, or both, will end up on the "floor" if you take a hand away, otherwise you will end up being thrown sideways and losing them anyway!
- Water does not always flow from tap to basin. Get the timing slightly wrong and it flows very happily from tap to work surface, wasting the boat's most precious resource!
- Sailing with the wind dead astern is a new skill that I don't think we've entirely mastered. If the boat didn't roll it wouldn't be too hard, but rolling, especially in lighter winds (less than 12kts say) it is impossible to keep sails filled and set properly. To make matters worse, the wind isn't constant either in direction or strength. The autopilot has a "wind vane" mode that is designed to cope with this by adjusting the boat's course to keep its angle to the wind constant. However, our Raymarine system either has a fault or (more likely) a design error, as it can't cope with even a small amount of rolling without setting off a "wind-shift" alarm. At worst this was going off several times a minute and requires manual intervention before the very loud beeping will shut up. We have to deal with this before another passage. Other boats have entirely mechanical wind-vane steering systems, but it would be very hard (and expensive) to fit one to Goldcrest now that the stern has so many other things fitted. The damned autopilot is meant to cope with this!
- We were a bit disappointed to have used the engine for 53hrs (about 14% of the passage). Some of this was for charging the batteries, which shouldn't be needed once we've added solar panels and re-mounted the towable generator, but most was because of light winds. We managed to keep the boat moving in 8kts but the rolling defeated us. Knowing that there were stronger winds to the south made motoring towards them overwhelmingly tempting.
- We had a few breakages and coped with repairs or work-arounds pretty well. The spinnaker pole was the worst, yet some good teamwork made light of what could have been serious.
- Aspects of Goldcrest proved themselves, especially the deck saloon design. We were able to avoid the heat and burning rays almost entirely, yet still feel very immediately involved with sailing, despite being "below decks". Red Panda would have been hotter, claustrophobic and quite exposed. We also had a good choice of places to sleep according to conditions. The off-watch person could be in any of 3 berths and able to sleep athwartships (across the boat rather than lengthways). Despite this, the watchkeeper often had the most comfortable place in the corner of the saloon and I slept pretty soundly in 20-30 minute bursts!
- Lindsay's ability to carry on regardless of conditions is amazing. She kept us fed, and not just with simple meals either. We ate magnificently throughout and even had fresh bread (twice) plus baked goodies (flapjack). It's a good thing we don't have any scales onboard as we both must have put on weight.
- We must work out what equipment we need to land fish! We really enjoyed our one success and most other boats seem to catch plenty, even the big ones that kept taking our gear, so it's got to be possible.
First mate would recommend a crossing as she mostly had a very enjoyable voyage and especially loved having the whole ocean to ourselves. I was almost disappointed when we finally spotted another vessel after 11 days at sea!
And a very happy new year to all our readers!
---