Les Saintes, Guadaloupe

S/V Goldcrest
David & Lindsay Inwood
Thu 14 Feb 2013 14:10
We stayed 4 days in Deshaies, soaking up the French ambience and doing a bit of exploring. We had a great 2 hour scramble up the bed of the local river, well more like a gorge really. It snakes around the back of the town and it is only on the way back down by road that we realised quite how far we had climbed. The photos don't really do it justice – it was a real tough scramble over boulders back and forth across the water to find a way up river. If you look closely at Lindsay's _expression_ you might be able to see the challenge!
The Deshaies River scramble:
We were lucky with the weather for this as it rained a lot whilst we were here. Most of the way the rocks were dry, but we had a downpour just as we reached the top. It turned the boulders into a slippery hell and we were glad to be only minutes away from the road back. And before we say goodbye to this delightful place, here are a couple of snaps of the local architecture:-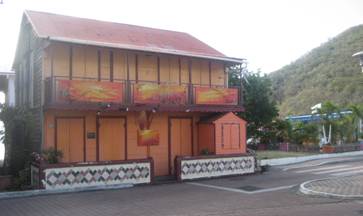 We'd heard and read good things about some islands off the south coast of Guadaloupe so we set sail on Thursday just to do the 33nm to Les Saintes. The winds were very fluky in the wind shadow of the island so we only managed an hour or so without the engine on and still had a bit of a job managing the boat in strong random gusts of wind from every direction as we reached the SW corner of Guadaloupe. A short but pretty rough crossing brought us into the delightful bay off Bourge Des Saintes, another bit of France overseas. We picked up a mooring buoy, and although it is pretty windy (high teens to mid 20s most of the time) and a bit choppy, it's easy to get ashore and there are some great little
runs around the island so we've decided we'll stay a while and enjoy decent coffee, croissants etc etc.
The view from the boat: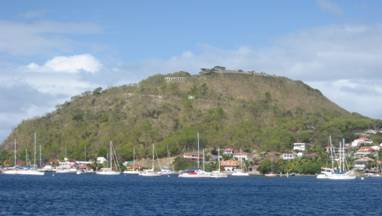 These islands, too small, hilly and dry for agriculture so were mainly colonised by fishermen from the north of France. They still retain their Breton character and "Gallic charm" and are very popular with tourists who pop over for the day from mainland Guadeloupe. There are fishing boats pulled up on the shore still, lots of waterside restaurants and bars and pretty painted houses with decorative detail described, wonderfully, as "gingerbread" in the guide book. They do look cute enough to eat sometimes including the Mairie (town hall) itself.
We have paid for a week on our buoy (60 euros) and feel lucky to have our spot this evening as all the buoys are now taken and many latecomers are being turned away to anchor much further out.
---