Minorca

S/V Goldcrest
David & Lindsay Inwood
Tue 6 Apr 2010 17:00
We spent a quiet and pretty cool Easter on Menorca (apparently the weather gods are often unkind over Easter here). We did catch part of a typical "Semana Santa" procession on the evening of Good Friday with the (to us) sinister-looking pointed-hooded figures parading through the streets of the old city and swaying to the sound of mournful brass bands. If there were more processions on Sunday, we missed them because it was so cool and wet we stayed hunkered down on board for most of the day.
But speaking of brass bands, we were very amused to see that out time here coincided with a visit from the Abergavenny Brass Band. Seemed like rather extreme to sail this far for that pleasure.
Yesterday we hired a car and drove the 42k across the island to the other main city of Ciutadella which used to be the capital of the island until the British moved it to Mahon when they ran the place in the 18th century. It's another charming place and pleasantly pickled in aspic as an example of gracious 18th living as all the progress and change moved away to Mahon. We enjoyed wandering the streets, admiring the architecture and taking a look at its pretty port.
We also used our day with wheels (how strange and speedy that always feels after time on a boat), to look at some of Menorca's fantastic pre-historic remains. The first of these was a building shaped like an upturned boat, hence its name of a "naveta" which was used as a burial chamber at least 3000 years ago and is made of huge stone blocks without any mortar. It looked so sturdy it will probably go on for another 3000 years, although erosion has made a series of holes in the roof now.
Navetta des Tudons:
We drove down a bumpy lane to one of Menorca's famously beautiful coves (or "calas") as apart from its lovely setting and clear, clear waters, it is also the site of a necropolis from the "Talayotic" period of pre-history. There are nearly 100 man-made caves in the cliffside which date from the 11th century BC, so another very atmospheric place.
Calas Coves; with man-made caves: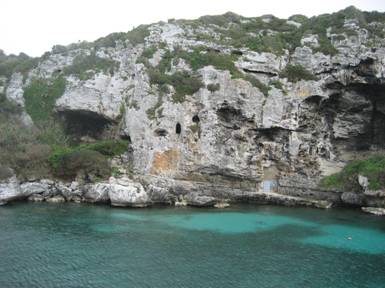 Finally we walked around a delightful village from more or less the same era whose central feature was one of the megaliths known as "taulas" of which there are many on the island. The village around it was occupied for at least 1000 years and you could almost feel the presence of earlier peoples there. It helped that each of these sites was so peaceful this early in the year and the fields around were full of wildflowers and birdsong.
Talati de Dalt; prehistoric settlement with its central Taula:
So Menorca has proved to be a destination of much interest for somewhere so small and we would be happy to pay it a return visit one day. Tomorrow morning we leave as early as we can for Sardinia as it's a 30-40 hour crossing. Today we have been making preparations for departure, including cooking some soup and suppers to get us through those cold, dark spells. Roll on the warmer months but not the crowds that go with them!
---