Cape May & Chesapeake City

S/V Goldcrest
David & Lindsay Inwood
Tue 23 Sep 2014 06:00
We were at anchor in Atlantic Highlands for 8 days in the end, getting some jobs done (it's a great place to get hold of stuff), restocking the boat and seeing Manhattan again.  The latter was a disappointment this time, which was our fault as we chose the only cool windy day and were not dressed warmly enough. 
We were waiting for the right weather to head south without too much engine use; it arrived a bit later than we hoped, but we got the wind in spades last Monday.  The forecast was for a nice westerly force 4 (which would have given us flat seas), so we headed off expecting to get to Cape May after dawn on Tuesday.  As it turned out the winds were 2 forces stronger (ie 30+kts) and we were screaming along with a middle of the night ETA.  After a few hours flirting with getting to Atlantic City before dark (we were fast, but not that fast) we spent the rest of the trip trying to slow the boat down.  No matter what, she ended doing 6 kts until we eventually got rid of almost all the sail and slowed down to 3-4kts.  We still arrived too early and with first light being later than expected, we had to mooch outside the entrance until it was light enough to see the buoys & river banks.
Cape May is a nice surprise.  For some reason I was expecting just nature, but there is also a wonderful old town which is a National Historic Landmark and was the first seaside resort in the US back in the 18th century.  Most of its houses actually date from its real heyday at the end of the 19th century when people came from north and south to enjoy the beaches and sea air.  There are 600 houses called "Victorian" but not the style we would recognise back in GB!  They are wonderfully ornate and colourful and many are justly described as "gingerbread" architecture – great fun to view on a street wander.
"Victorian" houses:
We knew we would have a couple of days here to get the timing right for fair tides up the Delaware bay, but it turns out we are also sheltering from the worst weather we've ever experienced at anchor.  We battened down the hatches last night as the winds strengthened and by the early hours we were being battered by gusts up to 37kts which is officially gale force 8.  The rain also started and it is still lashing down in force 6 winds.  Fortunately our anchor is holding brilliantly as the tide tries to take us the opposite way to the wind and we are being swung about and heeling sideways quite alarmingly – almost as much as sailing into the wind.  The forecast was for today to get better and tomorrow to be good enough to do the next leg – 80 miles into the Chesapeake & Delaware Canal.  The reality doesn't support this and I think it will be Saturday before we can move from here safely.  This is not such a great outcome for us as we have the longest dinghy ride to get ashore from here and in this weather we will get very wet.
My pastime was going to be getting the Duogen running whilst Lindsay does a mammoth cook.  We are still missing a part for normal operations but I had an idea of how to get power, but I'm not going out in this to get soaked to the skin for no certain benefit!
After our rough day confined to the boat, we were rewarded with perfect weather on Friday, although the wind would still have been against us for the passage to the canal.  We decided to see a bit more of the area and were very glad we did so as we had a terrific day's walking along the beaches of Cape May point and seeing some of the migrating bird life.   We watched soaring hawks, turkey vultures and others through wonderful Swarovski binoculars lent by the knowledgeable wardens at the observation deck.  We marvelled at the bird count featured on a board with days when over 1000 birds of prey of a single species were recorded.  We also saw lots more monarch butterflies which use this route for their migrations.  On our return, we had a lovely walk along sandy paths beside lagoons with wading birds.  We rejoined the beach where plenty of people were sunbathing and some swimming in the warm waters and wished we had brought our costumes.    Wheeling in flocks over the beach were some elegant, slim winged birds with pointed red bills which we identified as black skimmers.  All in all it was good to be somewhere we could actually have a long coastal walk for a change, as it is rare to have that sort of unfettered access to the shore here.
South Cape May from the lighthouse: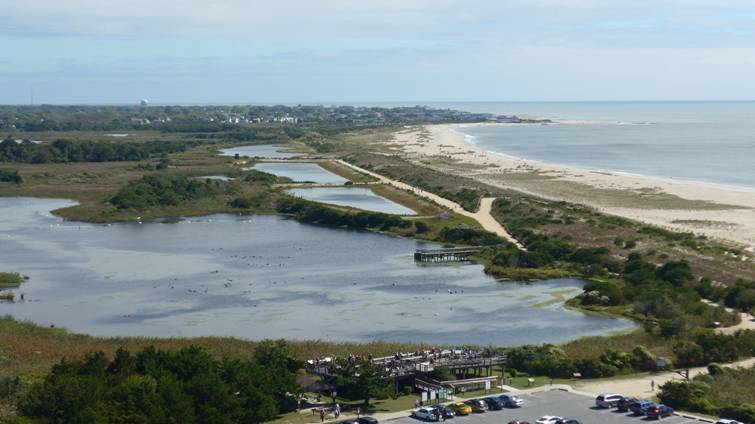 Black Skimmers:
The next day we left at first light and motored around into the Delaware Bay over initially choppy seas.  The winds soon died and we made fast progress motoring with the current and doing over 9kts.  We arrived at the Chesapeake and Delaware Canal early afternoon and every one was out enjoying the hot Sunday conditions.  We were headed for an anchorage at a place called Chesapeake City which turned out to be a tiny inlet crowded with pleasure boats and very little room to swing a cat.  We crept in, a little taken aback by the shallow depths and anchored rather close to our neighbours until able to move later when some of the smaller boats left.  It was a very warm, still night luckily and we just stayed on board watching all the activity in this popular spot.
We intended to leave as early as possible again in the morning in order to cover the 80 miles to Baltimore.  However, those pesky shallow readings on the way in should have warned us about leaving at low tide and we also misjudged where the deeper water was, so the result was we went firmly aground a few metres later!  We had to sit there in the middle of the basin for 3½ hours until able to move off at last.  At least we got to watch a pair of Bald Eagles on a nearby radio mast whilst we waited for the tide to rise.
Chesapeake City waterfront:
---