Around Cape Hatteras to Beaufort NC

S/V Goldcrest
David & Lindsay Inwood
Tue 11 Nov 2014 16:00
We had a nice long stop in Norfolk, waiting for half decent weather to head south again.  A number of weather systems came through – including the previously forecast one which gave us gusts of 40kts even in our relative shelter.  The evening before we were due to leave another system came through with the weirdest and most threatening cloud formation we've ever seen – a rolling, boiling ridge sweeping 40kts gusts across us.  Then Chris Parker, a forecaster who helps yachties all over this part of the world, reckoned we had a 40hr window of "good" weather to get around the infamous Cape Hatteras on Friday/Saturday, so we got up in the dark & headed off.  We listened in to his forecast again as we were heading out and this time he warned people not to round Hatteras that night!  We decided it was too late to turn back, and we were glad we ignored him as we barely saw any winds stronger than 20kts and the seas were relatively benign (although at the Hatteras and Cape Lookout shoals they are never very pleasant).  We ended up having to motor sail for 2/3rds of the time because of the wind direction and our need to stay close inshore. 
Storm surge in Norfolk submerges surrounding docks:
Anyhow, it is a great relief to have passed that milestone without any trouble and be "south" at last.  Not that the weather is that different.  The sea temperature went up to 23C as we nosed into a bit of the Gulf Stream, but is back down to 17C now.  It's raining again and the temperature is in the mid teens, but it's good to be in the Carolinas.  We had one night at anchor at Cape Lookout Bight as we arrived towards dark on Saturday.  The waters here are obviously rich in fish as the area was full of sports and commercial fishing boats and hundreds of diving pelicans and feeding dolphins.   We then  moved into Beaufort as we have to hand over our dinghy to "the dinghy doctor" for extensive repairs (not just the rip from leaving Hampton docks – it is looking pretty sad despite only having about one year's use & one year stored under cover, making the Ribeye poor value we think).  Beaufort is a lovely looking little town and we are docked right on the boardwalk, so we feel a bit as if we were back in Europe – apart from the cost (we would never pay anything like $2.55 per foot per night anywhere in the Med! – a hotel would be cheaper).
The scenery is pretty good too.  Across the creek from the docks is the Rachel Carson nature reserve (the "Silent Spring" author), complete with several distinct bands of wild horses, some descended from the original ones the Spanish brought over.
At anchor in the creek & bottlenosed dolphin in Beaufort: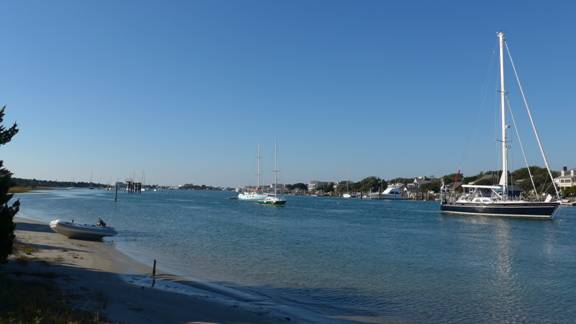 Wild horses on the Rachel Carson reserve:
It is now Wednesday and we are at anchor off Beaufort.  The dinghy was fixed and we aren't ready to move south again, so we decided to spend a few days for free here.  The tides run really strongly through this creek so we had to do a "Bahamian moor", a complicated technique employing two anchors only needed in narrow channels with strong reversing tides.  It was pouring with rain as we left the marina, but it was a perfect tide to practise in, and we nailed it first time, ending up very wet but well pleased.  We are now firmly knitted into the creek bed and tempted to stay a while.  The reality is that the temperature is forecast to drop to near freezing this weekend, so we feel obliged to keep heading south in search of warmth – next stop Charleston SC.
---