Warderick Wells

S/V Goldcrest
David & Lindsay Inwood
Thu 1 May 2014 22:59
Our next leg was our first day of sailing over the shallow waters of the Exuma banks.  We didn't see any depth more than 6m and most of the time it was 4-5m, and looking even shallower!  At first it's a bit scary and hard work trying to read the colour of the sea ahead: is that a sandy bottom or very shallow rocks?  After a while you relax and hope for the best.  We were roughly following the track of another deep draft boat, so we should be safe. 
Listening to the radio en-route we discovered that the mooring buoys at our destination needed to be booked a day in advance, so we modified our plan and found a mooring at Emerald Bay, just south of Warderick Wells.  The reason it was available became apparent as the bay is very shallow and this buoy, only just in deep enough water (2.7m at low tide, leaving us 2ft under the keel) was best part of a mile off shore and in very choppy water.  After a trip ashore and walk along the length of the island to pay, we spent a quite noisy and bouncy night.
The entire Cay is a nature reserve with only 2 buildings housing the office and accommodation for the park staff.  It is totally unspoilt, crisscrossed with marked trails and a delight to explore (especially if you don't try walking in the heat of mid day like we did.)   As we followed the paths there were some amazing views which speak for themselves.  We saw several of the unusual curly tailed lizards basking in the hot sun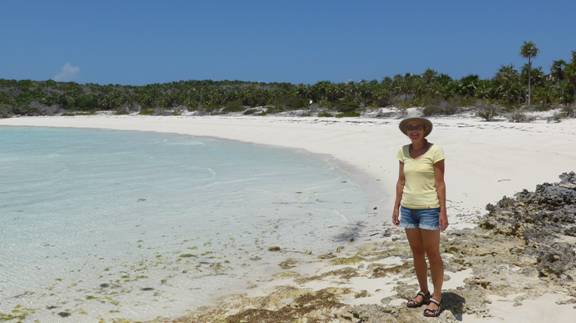 The last 2 photos show the main mooring area which we are now in.  It's a tiny curl of deep water running through the sand and fortunately provided with sturdy buoys.  Picking one up this morning (Thur 1st April) was "interesting".  It took us an hour to navigate a mile as the crow flies from last night's buoy, but 6 miles around the reefs.  Coming into this "creek" there is a good deep water channel but it is barely wider than a boat length, so you have to weave around the boats already moored.  Although the water is totally sheltered, the wind is still blowing 15-20kts so a crisp pick-up of the mooring line was essential, but not achieved.  I was left hanging on for dear life whilst Lindsay ran back to take control of the engine and rescue me.  My back has since recovered!
We had another great walk along the island, listening to songbirds and picking our way through various types of pretty vegetation and nurseries of mangrove shoots.  Later we snorkelled over a small wreck that was almost under out boat and David spotted several lobsters lurking there.  Lindsay enjoyed swimming out beyond "Goldcrest" and then finding herself only knee deep in water on the sand bank!  In the evening we had a get together on the beach for drinks and met various boaties.  The highlight was seeing a number of cute little Bahamian mammals called Hutias.  They look a bit like small wombats, about a foot long, and played very close to us which was a privilege.  Unfortunately we didn't have our camera with us at the time so no pictures.
---