San Juan, then Ponce

S/V Goldcrest
David & Lindsay Inwood
Wed 9 Apr 2014 11:29
Old San Juan was every bit as enchanting as we had been led to believe and we spent a very enjoyable day and a half there at the beginning of the week. We drove over from our anchorage in Salinas and booked a night in a Casablanca themed hotel so we would have more time to explore. The old city is on a promontory and we went round the most massive of its fortifications, the Unesco World Heritage listed "El Morro" fort which dates from the early 16th century. It was so strong it guaranteed that the island remained in Spanish hands for over 350 years despite the many attacks on it, (including by Sir Francis Drake.) There were great views out to sea from the walls and the Atlantic looked very rough and challenging on this north coast. We were glad we had chosen to sail along Puerto Rico's southern coast instead.
Views of & from El Morro:
We were reminded so strongly, whilst admiring the very pretty streets and pastel coloured buildings with their grille work balconies, of the cities of old Spain. We felt we had stepped back into Europe for a spell. Of course as you turned a corner and saw the enormous cruise ships berthed in the harbour you knew you were in the Caribbean once more.
Street scenes in old San Juan: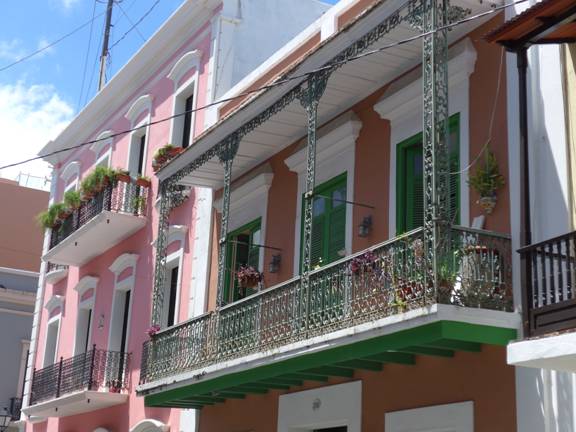 We returned to our boat via a very unproductive stop at a shopping mall where we did at least buy 2 basic life vests. US law insists you carry them in the dinghy at all times. We did a very large supermarket stock up whilst we still had the car to transport it back to base and were relieved to find "Goldcrest" still peacefully bobbing at anchor where we had left her. It's useful to have a vehicle for a short time but always a great relief to hand it back too!
We left Salinas the next morning and David spotted 2 more manatees on the way out of the lagoon. We had another easy, if rolly sail with just the genoa for the 20 miles down the coast to the Yacht Club outside the town of Ponce. We decided to treat ourselves to 2 nights in their marina as we needed fuel and water and a bit of shore-side access and electricity connection is always welcome, especially after more than a month without either. Yesterday afternoon we took a taxi into the town as the info said it was not to be missed. Unfortunately they were gearing up for a long weekend of partying and the main area of town was completely closed up apart from all the street drinking kiosks, food stalls and music stages being erected. All the shops were being boarded up for the event and the police presence was huge which was rather daunting. We decided to have a quick look around and then head back before the fiesta began! We did see the amazing old red and black fire station on the main square which is one of the town's main claims to fame.
The old Fire House: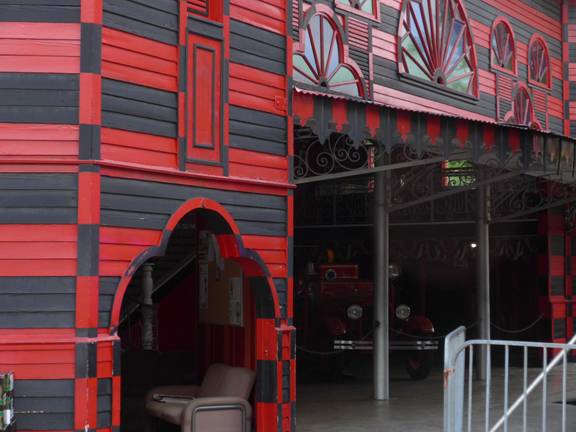 Today we are off to an anchorage en route to the town of Mayaguez at the western end of the country where we have to check out before our next leg northwards.
---