Porto Koufo, Halkidiki Peninsular

S/V Goldcrest
David & Lindsay Inwood
Fri 16 Jun 2017 14:00
39:58.100N 23:55.051E Fri 16th June 2017
We stayed a week in lovely Skopelos town and managed some exercise whilst there to mitigate the effects of overindulgence in food and drink. David had a couple of energetic runs up into the hills while Lindsay walked and swam from the nearby beach. We also met up with Ian & Sarah, sailing friends made over the winter, and enjoyed the opportunity to chat and compare notes on our travels so far this season. On our last night the four of us went to a bar in a stunning location at the top of the town, a late night venue with local guys singing and playing the bouzouki, mostly to locals and not too touristy.
From Skopelos we motored the 16 miles (zero wind again) to neighbouring Skiathos and moored stern to on the busy town quay there. Skiathos is close to the mainland and has an airport, so is in package tour territory. It was much noisier and less appealing than the other Sporades but we were chiefly there to fill our camping gas cylinders. Greece is phasing out that type and we were reluctant to spend money or storage space on new Greek gas bottles. Luckily we were able to have them filled, cheaply and rapidly, in Skiathos town, so the visit was worth it. The town did have some attractive areas, particularly around the old port and again we had a sociable time meeting up with Steve & Elena, the couple who were our neighbours all winter in Marina di Ragusa. After two nights though, we were anxious to move on as it was very hot and airless on the quay and we wanted to make progress towards the north and our rendezvous with our Aussie "relos" in Thessaloniki.
A view of Skiathos
On Thursday June 15th we motored for all but half an hour back past Skopelos and Alonnisos and had a school of pretty dolphins visit us briefly. We anchored in a large and lovely bay on the now uninhabited island of Kira Panayia, one of the lesser Sporades which used to be part of the Mount Athos monastic community. The entrance to the bay is very narrow, but opens up to provide terrific shelter inside. It used to be a favourite spot for pirates to hole up. We had a wonderfully refreshing swim and later watched some very impressive looking billy goats foraging by the rocky shore.
A devilish-looking billy goat and friend:
Goldcrest taken from the top of Ian & Sarah's mast: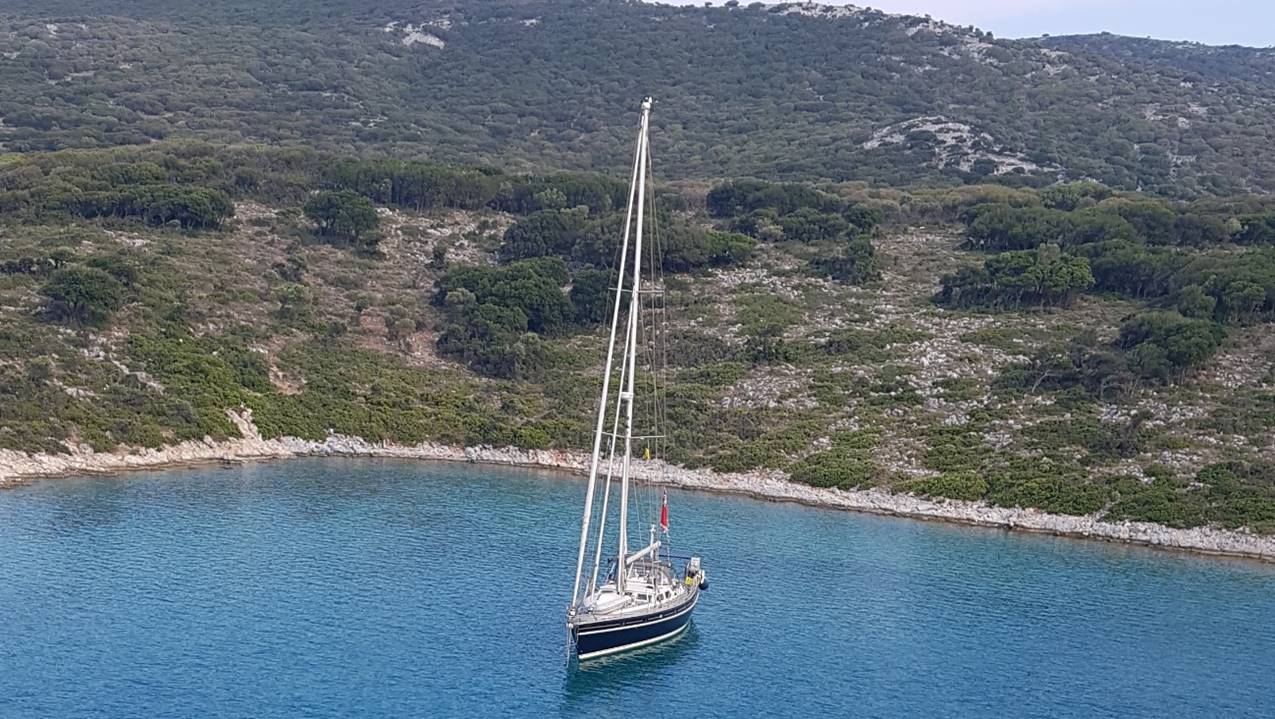 After a very peaceful night, one of those when you have to remind yourself that you are actually on the water, we motored back out of the narrow entrance, praying for wind to take us north. We were finally lucky on this 40 mile passage to the middle of the three "fingers" of the Halkidiki peninsular with perfect force 4 easterly winds to whisk us along. The sea was lumpy and we were well heeled at times but made terrific progress and did over 8 kts some of the time. It was wonderful to be sailing fast at last after so much engine use and we reached our destination by mid-afternoon. We are now anchored in another large, sheltered bay but this time with tavernas and a shop ashore and a quayside busy with fishing boats. It feels good to have made it to this part of Greece and we will enjoy the breezes and swimming opportunities of anchorages around here before going into the marina in Thessaloniki next week to meet the with sis and brother-in-law.
Porto Koufo entrance:
---