Chaguaramas, Trinidad

S/V Goldcrest
David & Lindsay Inwood
Wed 3 Apr 2013 11:00
Most important announcement first for those who don't know already. We are grandparents to a beautiful baby girl, Olivia, born in France on Good Friday to Sally and Chris and the reason we are heading back to Europe next week. We can't wait to see her now.
Olivia:
Meanwhile here we are in Trinidad faced with the daunting task of getting "Goldcrest" ready to spend the next few months on the hard (ie dry land) before we leave. Patsy and Roger left us this morning and we enjoyed their company very much as we have done on many sailing holidays over the years. They coped well with the 80 mile overnight crossing from Grenada which turned out to be more bouncy and to windward than expected but was speedy and lit by an almost full moon. The warm night winds were rather delicious too.
Trinidad was pretty much closed up for Easter and as we arrived on the Saturday, we had three days of inactivity before being able to take a tour of some of the island yesterday. We were driven around the capital (Port of Spain) and then over the verdant hills to the main beach where "Trinis" unwind by the sea. We sampled the fast food of choice here "shark and bake", a sort of sharkburger with lots of sauces to add extra flavour and on the way back spotted some of the island's 400+ birds, including vultures and hawks. We rather like Trinidad so far and the people are friendly and jolly. They think they live in a lucky country and they are probably right as they have sun, sea, rum and oil! As they say, "God is a Trini"!
But back to the boat... We have to clean everything, and try to make sure the wet season rains to come don't seep into every crack and leave all our stuff damp and mildewed. Not to mention the measures needed to keep cockroaches and ants at bay and the various jobs involved in putting a boat to sleep. We seem to be surrounded by old hands at this business who are intimidating first mate by being very efficient and focused and scrubbing all day. The yachts on both sides of us right now have also both done a circumnavigation, so make just crossing the Atlantic seem pretty tame.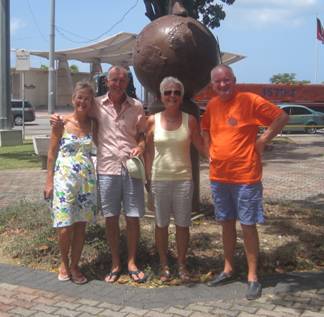 This time next week we will be in the air heading for Gatwick and a big change of lifestyle for a while. Hope to see some of you whilst back in the "old world" and some of you later out here too!
---