Katakolon (for ancient Olympia)

S/V Goldcrest
David & Lindsay Inwood
Tue 13 Jul 2010 14:00
Today we were able to get back to the real aim of our travels which is to see interesting places and educate ourselves along the way. We visited the site of ancient Olympia from our anchorage here in Katakolon in the Peloponnese. Did you know that the ancient games went on for over a thousand years, starting in 776BC? We didn't. The site is in a lovely setting and spreads over a very large area. Apart from the games themselves, the event was used for political discussion, business and trade and readings from poets and other writers. The remains are really just a jumble of stones these days but what enormous stones and many with clear inscriptions on them. We saw the spot where the Olympic flame is lit every 4 years and of course the original stadium and athletics track. You can still see the marble start and finish lines for the 120 metre track. It was all very atmospheric despite the tour groups. We also "did" the museum at the site and its star attraction, a 4th century BC polished marble statue of Hermes, literally brought tears to my eyes, it was so beautiful.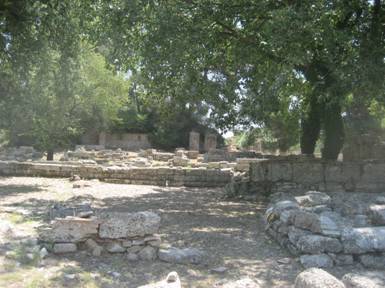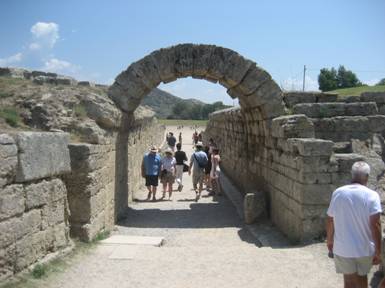 It was a very hot few hours and we were happy to return to the cooling breezes on our boat out in the bay and jump in for a swim as soon as we could. We've noticed streams of bubbles surfacing around the boat since we've been here. Each seems very consistent; not as much as a diver would produce, but way more than the odd bubble we've seen before from rotting vegetation etc. D tried lighting a particularly strong stream of bubbles (to see if they are methane), but only succeeded in ruining a lighter!
We had another nice sail to get here, managing over half the time under sail – mostly the colourful gennaker again. It used to be a source of trepidation, but we now manage it without major mishaps (mostly). Arriving in Katakolon we were greeted by some really huge (1,000ft long) cruise ships (one was aptly named "Costa Fortuna"). We've probably seen 6 of these monsters since arriving here: each berths, disgorges thousands of tourists who flock onto coaches which whip them off to Olympia & back, then they're off again. I don't think any have even spent the night here, which doesn't account for the hugely expensive drinks and limited food we've found here.
---