Lisboa

S/V Goldcrest
David & Lindsay Inwood
Tue 21 Jul 2009 16:20
Passed Cabo da Roca, the westernmost point of mainland Europe at lunchtime (9deg 30.62W). A morning's motoring in cloud was enlivened by watching thousands of little crabs swimming by. The 9 miles up the River Tejo to Lisbon (or Lisboa to give it its proper Portuguese name) gave us some interesting initial views of the city including the Torre de Belem which was built around 1515 and used to sit right out in the river before it silted up. Looking forward to exploring the city for the next few days from our base here in one of the city centre marinas (which involved sailing under a very large and noisy steel suspension bridge).
Lisbon's "most photographed building" – the Torre de Belem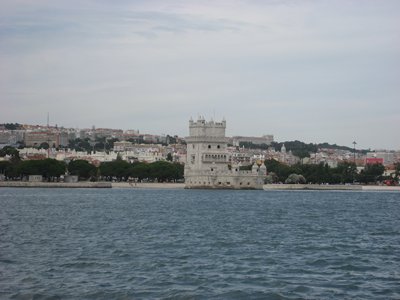 And no matter how high the bridge is, you still worry about the top of the mast (in this case, 50m clearance!)
For those planning to join us, we hope to be in Cadiz before the end of the month and stay at least a week, exploring the area and meeting up with old friends.
---