Brixham

S/V Goldcrest
David & Lindsay Inwood
Wed 31 Aug 2011 10:15
We left La Coruna nice and early (6 a.m. BST, 5 a.m. local time!) whilst it was still dark and motored out into a really rolly sea left over from the storm.  By the time we were out of the big bay that protects La Coruna the seas were up to 4m (biggest peak to trough), but with very little wind, the water was relatively smooth and we made good progress under engine (still sounding smooth!).  During the morning the waves diminished and we were able to motor sail for a while and say hello to a passing pod of dolphins.  The natural history highlight though was a passing whale.  Lindsay saw him first, surfacing to blow just a few metres from the boat.  He was pretty big; easily 1 – 1½ times the size of our boat, so maybe 20m long.  We think he was a fin whale, with a big long body and a tiny dorsal fin right back towards the tail.  Quite a sight.
A different mammal enjoying the calm Biscay waters:
We'd hoped for some wind during the passage, but by the time we were approaching the north of Biscay we had only had the engine off for 5.5 hrs (in 2 whole days!).  Although we'd kept the revs low, we decided that we needed a bit more fuel before heading into the Channel.  So we diverted to Camaret just outside Brest (i.e. just under the western tip of Brittany).  We made a night entry which was actually rather fun.  There were virtually no other boats about so I could concentrate on following the buoys and dealing with the tide.  I was also using the GPS, so it didn't matter that I missed an unlit buoy – but I was very embarrassed to see it by daylight the next day – it was huge – almost as big as us!
Camaret: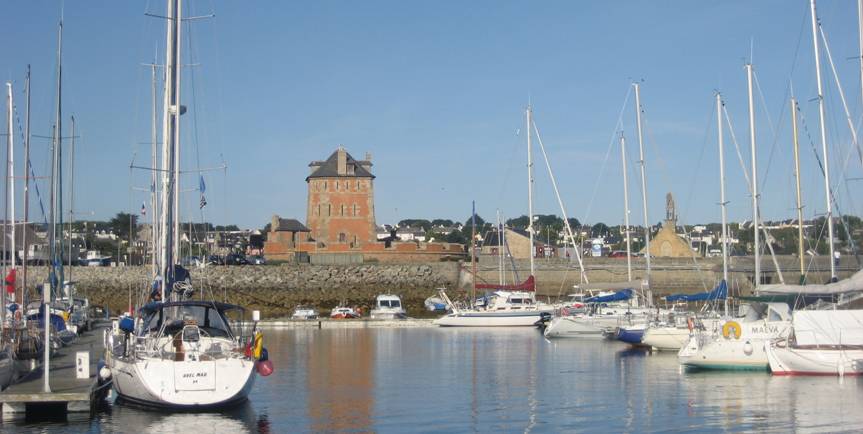 At just before one in the morning we made a gentle approach to the outer pontoon at Camaret and Lindsay stepped ashore to tie us up.  Unfortunately there was a wave break on the pontoon (a board mounted vertically a couple of feet from the edge of the pontoon) which tripped her up, and having her hands full of ropes, she fell, grazing her chin and getting a very impressive black eye!  Poor thing, but brave thing as well, as she still managed to tie the boat up in good order!  We grabbed a few hours sleep and got some fuel from the self-service machine first thing in the morning (30th).  Camaret was delightful and we set off again feeling quite sad that we didn't have time to explore.
Our first task was to navigate through the Chenal du Four, the famous tidal race past the tip of Brittany.  I thought the tides worked well in our favour, but we were a bit early and had about 2 kts of current against us for the first section.  Then we whizzed along as the tide turned northerly, but the wind came up as well, making the sea quite rough & confused.  Never mind - we could sail at last!  It didn't last long though, and after an hour or two we were motoring again to get us out into the English Channel.  The winds had swung northeasterly, within a few degrees of the direction for Lymington.  We motored into it for a while, but by 9 in the evening with enough wind to sail in, we turned off course and killed the engine for 14hrs of sailing.  As the wind picked up we had to reef (make the sails smaller you lubbers!). 
We were by this time crossing the main shipping channel and had a couple of close calls.  The first was one of the largest container ships currently operating, at 0.2 nautical miles long.  We called them on the radio to check they had seen us and they obligingly changed course to give us a bit more room.  It was like being overtaken by Brighton pier – this huge and brightly lit thing just kept on and on.  The 2nd incident was a bit more scary; I'd seen a boat by eye and on AIS, which was saying that there was no danger of collision.  I was just trying to work out its strange navigation lights when both lights and collision status changed.  It turned out to be a fishing boat and as it shot its trawl net right in front of us, it slowed down so much that we were suddenly on collision course.  With no time to think I tacked the boat and ended up sailing alongside it for a while, cursing the perfidious French who had just ignored the rules of the sea!
By dawn the seas were so rough that I was having to hand-steer the boat in order to make any sort of progress towards the Solent.  The best we were able to do was heading for Portland and the violent motion of the boat beating into seas was made worse by wind in one direction and tide in the other.  Just as I was plotting courses for nearer ports, Lindsay poked her head up & suggested the same thing.  Why beat ourselves up in these conditions?  So we turned onto a more comfortable course and headed for Brixham, making fantastic speed in the brisk winds.
Brixham is a great little place.  It is just as picturesque as Dartmouth, but is a genuine working fishing port (the UK's most productive they say).  We had a couple of days to rest, as the winds were still from the east and pretty strong, so we had some well deserved down-time and a lovely walk out to Berry Head.
---