Mindelo, Cape Verde Islands

S/V Goldcrest
David & Lindsay Inwood
Sun 9 Dec 2012 09:00
Well we made it to the Cape Verdes after a pretty fast passage of almost exactly 6 days - 870 nautical miles, our longest yet. We arrived early on Sunday morning and berthed in the delightful marina in Mindelo on the island of Sao Vicente (one of the 10 main islands of the group). Since then we have been doing the inevitable boat jobs that crop up after a voyage (someone said cruising is the art of fixing your boat in exotic locations), but also enjoying the new surroundings and spending too much time in the marina bar. The town is charming in a shabby way with its dilapidated old Portuguese colonial buildings and is buzzing with African vitality and colour. We love the ladies with their wares balanced on their heads, usually in large plastic bowls, sometimes bursting with large fish or bunches of bananas. We haven't sampled the famous music of the islands, said to be a heady mixture of Portuguese fado with Brazilian influences and African rhythms, but we will before we leave.
The boat starts rolling, some jobs need a laid down attitude…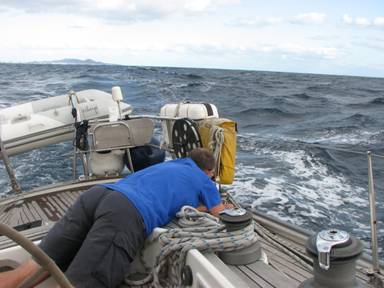 But to go back to our passage down here…. The first four days were challenging with strong winds and rough, rolly seas and skipper couldn't get any sleep as the boat swung from side to side. However "Goldcrest" proved her worth as the sea kindly boat she is and we managed to spend a good deal of time below without feeling queasy at all. It was a new experience for us to do that and comforting to know we can live "downstairs" when sailing offshore. Of course our passage was made easier by the company of our friend Jim as crew and that meant we could all have longer periods of sleep when not on watch. Eventually on the fifth day, the winds eased and we were able to sit in the cockpit with a glass of wine to watch the sunset. We did have to motor for 5½ hours that evening as the wind disappeared completely for a while, but otherwise it was sailing all the way. We were a bit disappointed not to spot much wildlife en route, no large mammals at all and only the odd seabird. I had to take an interest in a pretty locust that clung to our ropes instead!
Living below:
As we arrived we could make out the dramatic, jagged silhouettes of this island and its neighbour and it felt very exciting to be so far south and only a few hundred miles off the coast of Senegal. From here we head directly west and hope to make landfall in Antigua. We plan to leave at the weekend and will probably be at sea for the New Year as well as for Christmas day. We have a tinned cake and some other goodies hidden away to cheer the day but will miss the family a lot. We apologise for not sending cards this year but wish you all a very Happy Christmas and New Year and hope to send the occasional message as we are crossing.
Smiles on arrival: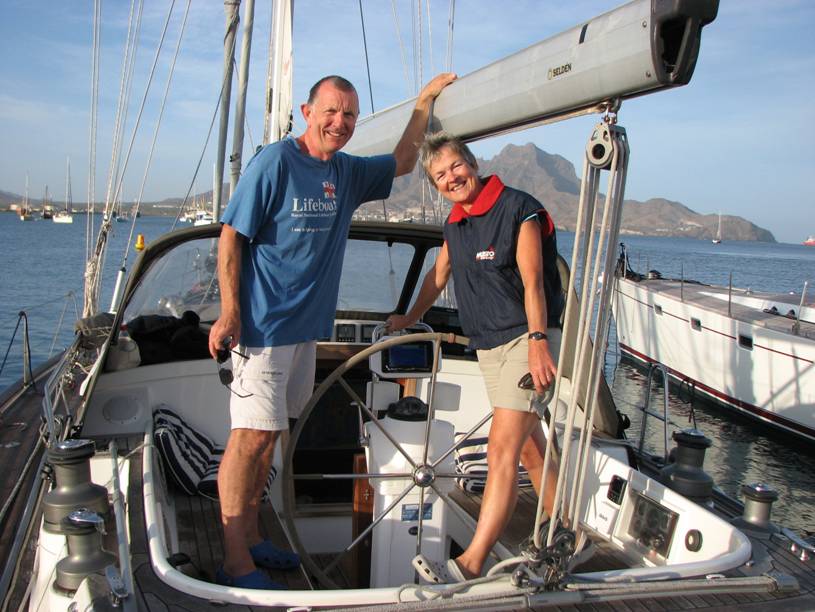 An impromptu street market, and the marina bar:
A typical street:
---