Boothbay Harbour

S/V Goldcrest
David & Lindsay Inwood
Mon 1 Sep 2014 12:00
Having just impugned the local weather forecasts, we did get the most torrential thunderstorm on Sunday night after all.  The rain came down so hard we had to close tight all the hatches and portlights to stop the water dribbling in around the seals.  We woke in the morning to fog, but by 8 o'clock it seemed to be clearing so we decided to head out anyway.  This was not our wisest decision, as within a couple of miles the fog had closed in again, and with all the lobster pot floats littering the surface I didn't feel at all comfortable about turning round to get back into port.  Maybe it would get easier out at sea?  Well, no actually, we had the lowest visibility we've ever experienced; probably less than 50ft for much of the way – that's less than 15 seconds between seeing a float and hitting it, if we didn't take avoiding action.  It makes for a very tiring trip with both pairs of eyes needed straining to see into the murk at all times.  One upside to the fierce concentration was that we spotted several seals surfacing close by.  However we didn't hit anything and did get some interesting scenes on our approach to Boothbay Harbour.
Boothbay is another pretty place, but very touristy and crowded on the day we arrived – Labour Day – which marks the end of the US holiday season.  Although we didn't get to see any of the scenery en-route, we are now in Maine proper, and as promised, it does have something of the feel of Scotland but with far more habitation.   Boothbay is named after a village in Lincolnshire and is between Bath and Bristol, so we should feel at home!   The pretty harbour is surrounded with restaurants specialising in lobster as you would expect and the touristy shops of the little town had something of the atmosphere of an English seaside town.  Once the fog cleared around lunchtime the day turned very hot and sunny and we took to the cold beers rather early in the afternoon – felt we earned them after the rather fraught morning at sea!
Today (Tuesday) is foggy again so this time we're staying in port.
Mysterious shapes(a lighthouse and a headland)  looming out of the lifting fog:
Boothbay harbour scenes: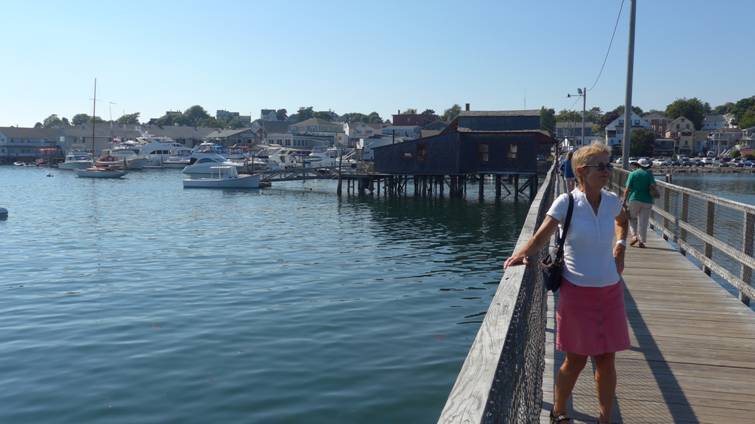 ---