In which we reach Portland Maine and mourn the loss of a dear companion

S/V Goldcrest
David & Lindsay Inwood
Thu 28 Aug 2014 15:00
To get the sad news over first: our beloved Duogen got eaten by a lobster pot!  Although it has cost us a fortune over the years, "Doug", as we call him, has been performing fantastically since his latest refit, generating all the power we need when the sun isn't shining.  Since passing through the Cape Cod Canal we've been plagued by the lobster pot markers this area is infamous for, some days seem to be spent entirely dodging the damned things.  I foolishly decided to deploy Doug in towed generator mode on the way to Portland as we were well offshore and seemed to be in a clear patch.  God knows what possessed me.  Minutes later we passed another pot buoy, missing it by inches we thought, but catching it around the generator's water-impellor.  Although we tried to bring the boat to a halt from 6 knots, within a few second there was a bang and we lost the entire in-water mechanism, including many essential parts for wind power mode as well.  It seems repairable, but at another great cost and we may decide to invest in more solar power instead.  We spent the rest of the trip dodging more pots – a tricky and tiring task when sailing hard on the wind.  I was knackered and bereft by the time we made it into Portland.
So here we are in Portland Maine, sitting out a forecast storm for a few days (it hasn't materialised).  It's one of our favourite places so far, with a really different feel from further south and a great mixture of working fishing port and bustling tourist destination.  D got very excited about the huge ships' chandlery here; it also caters for the local fishing fleet so seemed very widely stocked.  In the end we spent under $10 as it didn't have the things I had on my list!  We have tasted some of the local craft beers, wandered around the array of independent shops and had some lovely walks both through the town and along the waterside with some fantastic views of the magnificent bay here.  You have to make the most of a coastal walk in the US as most of the shore line is taken up with private homes.  Apparently only 2% of Maine's shore is publicly owned!  We continue to be lucky with the weather, with most days being warm and sunny, although the evenings quickly get a bit cool.
En-route here we stopped the night close to Portsmouth on the New Hampshire/Maine border.  The coast looked attractive and we were entertained by beautiful little terns diving for fish, but we didn't go ashore as we were on a mission to catch early tides and long day sails.
Pepperrel Cove outside Portsmouth:
Tripper boat leaving Portsmouth: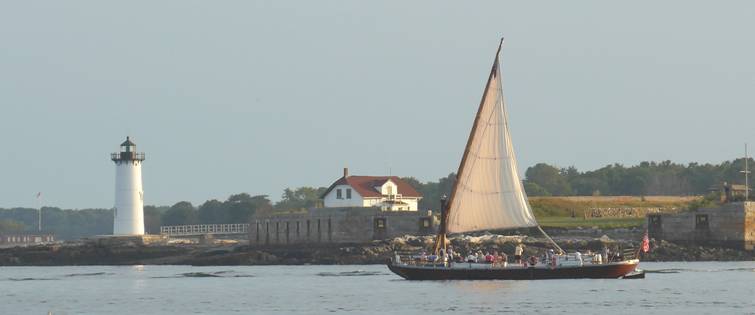 Portland head:

Tomorrow we hope to move on "down east" as this part of Maine is referred to, with an ever more challenging coastline and more of those damned pots.  It's not even as if we are great fans of lobster on the menu really!
On a different note, we should have been entertaining readers with some of the truly dire names Americans seem to choose for their boats.  How about, for example, "Debt Propelled" or the incomprehensible "Nicer to be nice".  We were puzzled by "Two if by sea" but it as explained as a reference to the warning given during the war of independence if the English were going to attack Boston by land or by sea. We will note more interesting examples; watch this space…
Lindsay communing with Portland's founding father:
Casco Bay outside Portland:
---