Norfolk

S/V Goldcrest
David & Lindsay Inwood
Sat 24 May 2014 18:56
We have now spent over a week in this delightful spot and have been spoiled by the comforts of the dock and all the help we have received from our hosts here. At last we have the new batteries installed and skipper (aka "ampman") can sleep a bit more easily. Other boat jobs have been addressed, first mate has had a much needed haircut and we have done some useful exercise around the area. We have appreciated the tree-lined streets, lush planting, and the scents of spring. The pretty birdsong has reminded us of Britain at this time of the year. We have had the privilege of watching an osprey (much more common here), perched on a nearby flagpole either preening or consuming the very large fish he catches. He has a wonderful cry and it alerts us to his presence.
Osprey & prey:
We will return to the Chesapeake in the autumn and explore some other locations, but at the moment we are focused on New York. We will leave here, winds permitting, tomorrow or Monday and have a 2 night passage up to New Jersey.
A giant inflatable duck in Ghent – an art thingy:
and one of the many mermaids that add a certain something to the area:
How's that for a prow?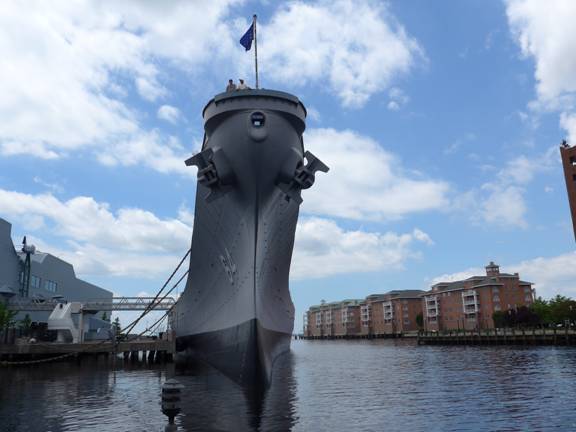 "Our street" - we are on the dock at the end:
---