Day 23 - Bahamas Cruising (West End - Old Baham Bay Marina)

Magic Friday
Phil, Di and Annelise
Sat 9 Apr 2016 17:02
Indeed it was a fight, wind and waves against us, we tacked to port and starboard, making only 2-3nm further north every hour - this was going to take most of the night and into the morning! At least clear of the shipping traffic of Freeport we could maneouvre more comfortably - except for the cruise liners cutting the corner of the Island en-route to Nassua - Disney Dream calling us on VHF to "ask our intentions"!! Needless to say, we replied with every intention of tacking clear of the mega-ship travelling at 23 knots in our direction in the black of the night!
As daylight broke, the waves never appear as forbidding and the wind abated a little, shifting from the north-east to the north giving us an angle to make real progress.
Tied up at a very nice marina, welcomed by other cruisers, the marina soon filled up – all using the stop as a staging point for a Gulf Stream crossing. Most of us seemed to agree that Monday would be the best day. So, we have time to relax and enjoy the resort amenities – a pool and gardens, a restaurant, a beautiful beach and lunch at the beachside bar.
A local selling lobster tails on the dockside solved the bbq problem for the evening – ending a tough and tiring day in our traditional way!
Phil and Di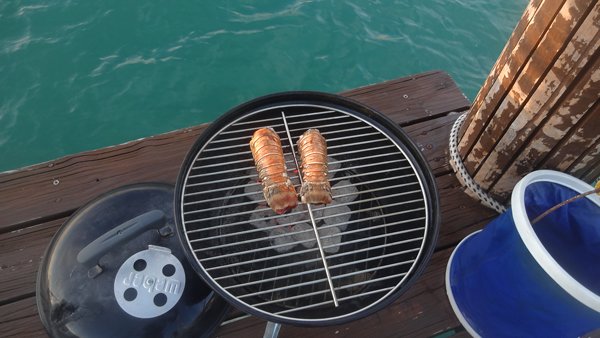 ---