Day 11 - Bahamas Cruising (Market Fish Cay)

Magic Friday
Phil, Di and Annelise
Mon 28 Mar 2016 17:05
Anchors freed - complete with sand, clams and other shells - we were under way. Creeping out over the shallow bank - did the depth read 0.0 M at one moment....still moving slowly over sand and shale until at last some deeper water - 1.0 M! Heading up to round Stirrup Cay and the cruise liners holiday location in a fresh easterly force 4-5. A little rough beating against the wind once again in 3-4 ft seas. Keeping track with a schooner on the same course we tacked port and starboard together - favouring the closer line to the Berry Islands we made better way, eventually leaving them behind.
Still a long way to go to either Chub Cay or Nassau, so we decided to call it a day and look for an anchorage tucked in within the Berry Islands - Fish Market Cay. Anchors away at 14:30 in crystal clear, tourquise waters. The afternoon slipped away exploring in the tender (no outboard - just "oar power"), swimming, snorkeling and gazing upon deep blue fish dart in and out of the rock formations below - we were floating on top of an aquarium!
So peaceful..... although joined later by a motor launch anchored off Soldier Cay - everywhere else was totally deserted.....not even a bird in sight on the cays….
Phil and Di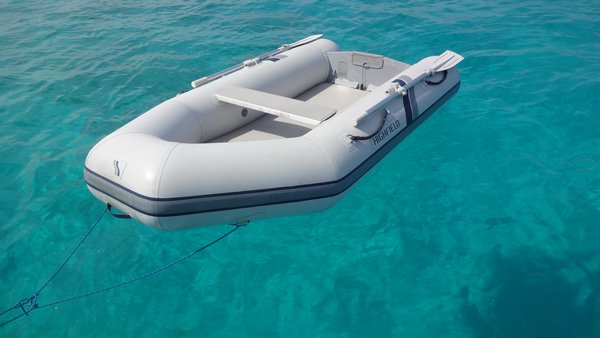 ---