Day 2 - Bahamas Cruising (Bimini Resort World Marina)

Magic Friday
Phil, Di and Annelise
Sat 19 Mar 2016 18:58
25:45.7N 79:16.6W
A relatively (!) restful night on anchor, the wind had turned south-east so south Bimini island afforded us some protection, but in the early hours the southerly came back (as predicted) with some force - as we waited the morning out for high tide and make our entrance into Alice Town we rocked and rolled in the heavy swell! Nevertheless, a cooked breakfast, chance to catch up the blogs and watching other yachts struggle in the entrance (briefly running aground) - passed the time of day and gave us some valuable information on where the sand shoals had shifted - we need to stay close to the red navigation bouys ("red-right-return")!
The wind picked up to 20 knots and the waves grew to 3-4ft - it was time to haul anchor and make our attempt. We tucked in behind another yacht and take the roll on the beam....6ft depth quickly fell to 2ft and 1 ft below the keel, the leading yacht went too far to port and slowed to a stop - aground? We held back until they could make way again and take up the right side - only 15ft in front of us - we were talking to each other! Within 10 minutes we were both in calm waters and a deeper channel. Time to relax! Shortly thereafter, tied up on "Andrios 13" - the private slip of our friends in Fort Lauderdale at the Bimini Resort World Marina....and very nice it is!
A golf cart rented and we were "speeding" (there are no speedometers in the carts, probably only a 50cc engine and only forward/reverse gears) down the only island road north/south towards customs and immigration. Formalities all done, time for a celebratory drink and conch fritters at the Bimini Big Game marina bar and then retire back to our marina in the north. Inspection of the swimming pool, hotel, casino and other luxury resort facilities held over to tomorrow - we were exhausted doing just those few stressful miles into Alice Town! Lightening storms to the north entertained us as we had evening dinner in the cockpit - tucked up safe and sound!
Phil and Di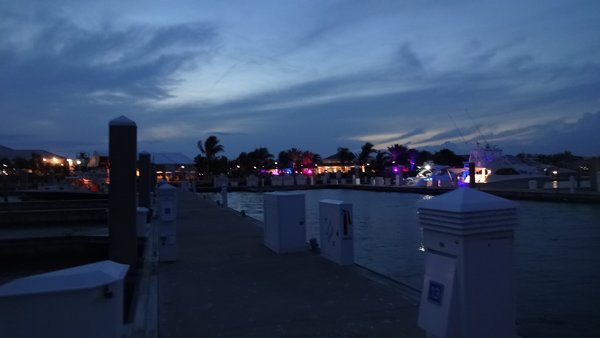 ---