Day 7 - Bahamas - Georgia (Brunswick Landing Marina Georgia)

Magic Friday
Phil, Di and Annelise
Wed 17 Jun 2015 19:44
Pre-dawn lightening over the land to the west hastened a sail change - just-in-case! Thankfully nothing materialised as we neared our waypoint - the safe water bouy just outside St Simons Sound and inlet for Brunswick - to be Magic Friday's new home for the next few months.
A pleasant motor into the port between St Simons light and Jekyll Island (part of the ":Golden Isles"), under the road bridge and thence up Turtle River and Brunswick Reach to the marina. Stopping at the fuel dock we discovered "no reverse gear" and briefly bumped the dock - we had arrived! (Problem believed to be vast clumps of Saragossa seaweed accumulated on the sail drive as we had a similar problem out at sea). Fortunately, no boat (or crew) damage just a memorable entrance for the dock master (and small dent in the rubber lining of the dockside)! Checked in and safely tied up on our slip further up the river opposite vast expanses of salt marshes and alongside a ... railway line (of course). A single track, local line to serve the port of Brunswick. Since the town has a population of only 16,000, shrimping on the marshlands (the "marshes of the Glynn") being its main industry - this was going to be a busy line!
Evening drinks celebrate the end of this adventure......reflections of the places we have visited, the happy times with Annelise at some of those pristine beaches and crystal clear waters of the Bahamas, the thunderstorms, the peaceful days gliding across calm seas and the new friends met along the way.
Phil and Di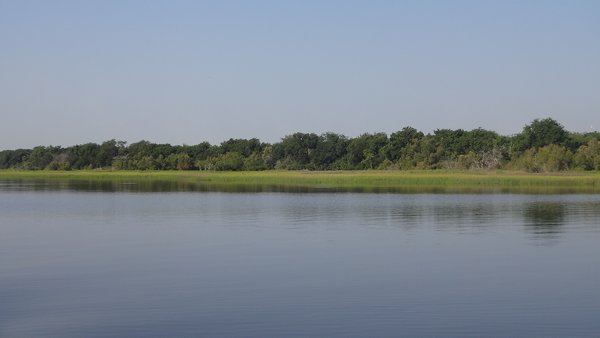 ---