Harbour Town Marina - Fort Pierce FL

Magic Friday
Phil, Di and Annelise
Sat 23 May 2015 17:35
Morning call from an osprey perched on a nearby masthead woke us to a fresh sunny day. Visit to the local Farmers Market - food produce, arts and crafts and a band playing in the downtown square (somehow loud and very similar to the music at the block party a few weeks ago(!!) - the store keeper selling tomatoes told us he had been at his stall next to the band for 10 years and they were "finally moving" as he has gone deaf!!). Still a lively atmosphere - some good fresh food buys, softer music from a flute maker and then a quiet walk around the sleepy downtown streets - some eclectic shops and a souvenir buy for us on the boat (serviette rings).
Back to boat jobs - this time replacing the claws on a rope clutch for the genoa halyard - helps to keep the sail up!! Not as complicated as it looks given this is the second jaw replacement! A quick inspection of the old windlass motor - nothing obvious - maybe a few touching wires (shorting)? Still puzzled why the boat's dedicated fuse didn't trip before the motor burnt out....
Rounding the day with a refreshing swim before dinner and movie (almost through the Lord of the Rings cycle)!
Phil and Di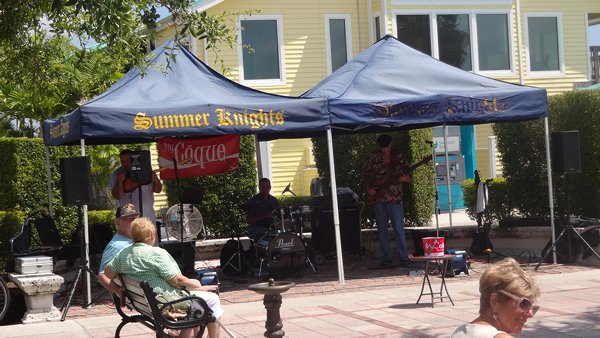 ---