Brunswick Landing Marina Georgia

Magic Friday
Phil, Di and Annelise
Thu 18 Jun 2015 17:18
Fully rested - time to survey our surroundings and start the many jobs of cleaning, laundry, maintenance and packing - always plenty to do! Although saving afternoon time to explore the town and provision for the coming few days.
Brunswick, named after Braunsweig Germany, the birthplace of King George II was officially founded in 1771 following the first English settler in 1738 who came to grow tobacco along the Turtle River. The Glynn marshlands expand out towards St Simons Island. The town, laid out by Oglethorpe, is a grid system, an historic downtown street with cobblestone sidewalks shaded by palm and live oak trees.
Is it hot! Apparently a heat wave - temperatures in the upper 90's and humidity's over 100% - hot, hot and sticky -t he fans are working over-time! Meeting new neighbours as friends - many have come to stay out of the hurricane zone - some living aboard - marina activities in the Yacht Club will no doubt reveal more friends and stories to exchange. Even the ladies in the laundry room had started on the cheese and wine socialising whilst waiting for the washing!!
Discovered a busy bar and grill on the edge of the marshlands for evening sundowners and a view over the shrimpers.
Phil and Di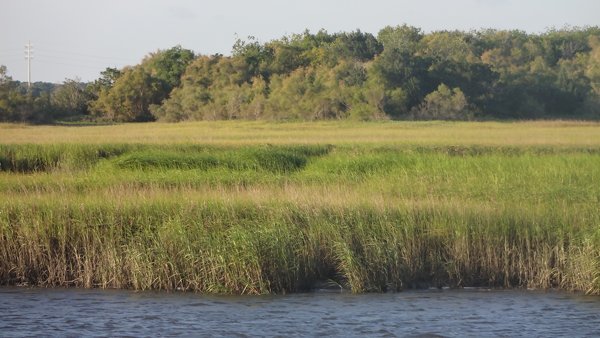 ---